Most of the time when Mark and I do a house sit that is longer than one week, I create a post about how an ordinary day in our life as house and pet sitters looks like. Many of the tasks are the same, but there are always some unique aspects that have to do with each home, area or pet. Past "A Day in the Life of…" posts cover our time in The Villages, Florida, which is the biggest retirement community in the world, Kent, Connecticut, where we took care of four pets for a highly creative and accomplished couple and Heath, Massachusetts, where we lived on a maple farm.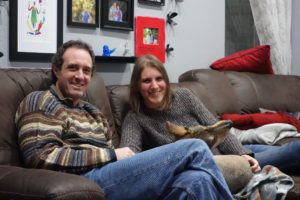 As I was thinking about this particular house sit, I couldn't help but realize that our days are probably pretty similar to most people of our age living an "ordinary" life, with the main differences that we both work from home and don't have kids.
This is how a normal workday for us looks like in Rocklin during our three month sit:
6:30am: Mark gets up and readies himself for the day. He disappears in his temporary office to take care of support tickets and phone calls that came in at night and in the morning. In California, we are three hours behind East Coast time, where The Wirie business is situated. He has breakfast when the most urgent things have been taken care of.
7:00am: I read through emails, house sit listings and blogs I have subscribed to, while still in bed. Sometimes, I invite Herk up with me. After an hour or so, I get ready, do exercises for 10 minutes and have breakfast
8:00am: One of us feeds Herk after letting him out in the back yard.
8:30am or 9:00am – 12:30pm: We work on our computers. Mark does research, development work, communicates with customers, makes phone calls, takes care of website-related issues, ads and the like. I write a blog, an article or work on my memoir.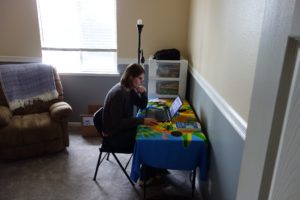 12:30pm – 1:30pm: Lunch break that involves eating our sandwiches in the kitchen and drinking our tea on the couch while catching up with each other and cuddling with Herk. We let him go out for a potty break.
1:30pm-3:30pm: We return to our computers for more work-related activities.
3:30pm-4:30pm, or sometimes earlier: walk with Herk in the neighborhood or park around the corner.
4:30pm-5:30pm: Wrapping up work, writing emails, reading… It is dark by then.
6:00pm: One of us feeds Herk.
5:30pm-7:00pm: Snack time and dinner preparations, plus clean-up.
7:00pm – 7:30pm: Playtime for Herk. He picks different toys out of his basket, one by one, we play and he does not stop wagging his tail.
7:30pm – 9:30pm: We watch Netflix series, a movie or read in a book, with Herk cuddled up next to us or on our laps. Sometimes, we take him for another walk or talk about our plans.
9:30pm: Last potty break for Herk and for us, before turning in for the night. Usually, we spend a bit more time on our iPads to catch up with the news, Facebook and I write my diary. Some evenings, Herk joins us on the bed for more snuggles. 🙂
Throughout the day we swing by Hercules who adores his two couches, to give him an extra portion of love.
On Tuesday afternoons, I pick up all the poop in the yard, which is easily a few pounds. Our temporary dog prefers to "go" in his own back yard than abroad. Wednesday mornings, I put the garbage out and every late afternoon, we pick up the mail across the street. Every two or three days, Mark checks the pool and adds products when needed. About once a week, one of us sweeps the pool with a long broom and whenever the patches of grass get long, Mark mows the yard.  One month long, I tried to do an hour a day of yoga at a studio I could walk to in ten minutes.
During the weekends, we take care of some chores, go for longer walks with Herk and when the weather is nice, we try to go hiking in the hills.
The first two months, we also took Hercules to a dog park regularly, so he could run and socialize. He truly loved it! I will touch on why we had to abandon that plan in a future post when I write my overview of this sit, something I do after every house sit assignment Mark and I fulfill.