Today's blog post is a difficult one for me. I have written emotion-laden blogs before, like the one about our sweet, smart and cute dogs Kali and Darwin and the one about my sister-in-law Dru. I never wrote about my dear aunt Monique or my paternal grandma I called meter. Both also passed away while Mark and I were sailing the seven seas. During all those years abroad, I had one massive dread and worry. It had to do with my maternal grandma, my oma, who I loved more and longer than most anyone else.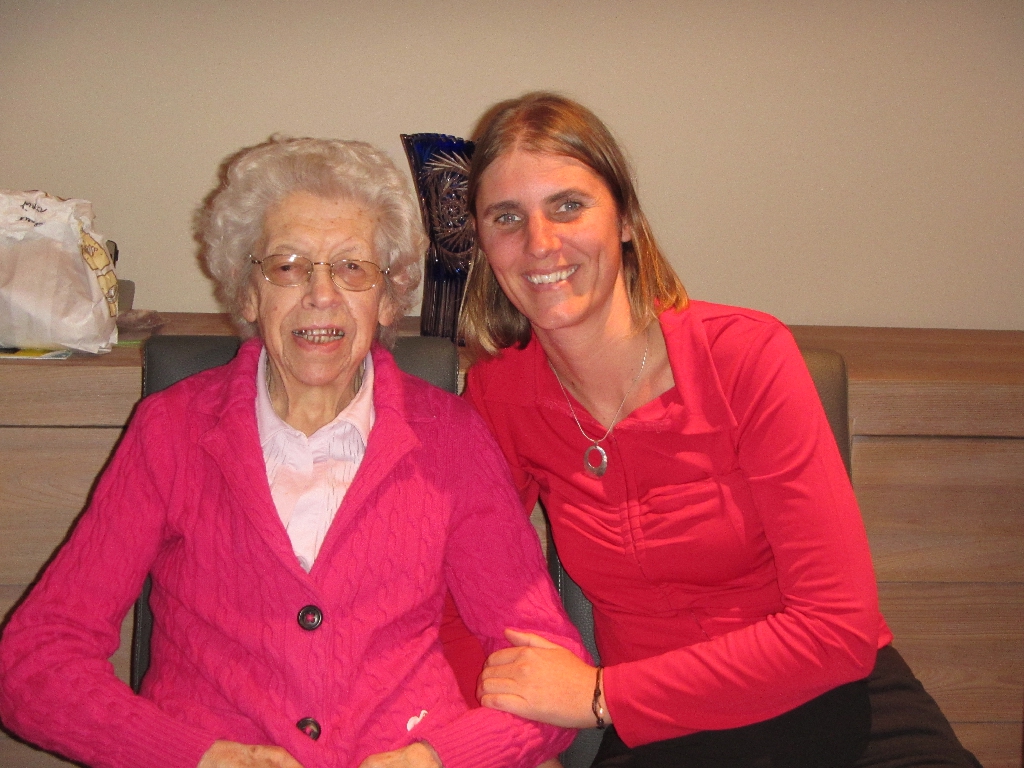 When I was thinking about this subject, I realized it is International Women's Day today. Perfect! What better day to celebrate the woman who meant so much to me, my whole life?
When my brother and I were little, she would take care of us after school, until our mom picked us up after work. My memories still return to her kitchen, when I eat certain foods or smell certain products. She and my peter Marcel – a veteran from WWII – had a soft dog, Pasha, and when we needed a bathroom visit, we braved the cold to go to a separate building outside. The toilet did have a flush, though, unlike the one at my other grandparents' house.
As a teenager in Belgium, I visited her very often and always found a listening and understanding ear. My oma was honest and straightforward. If she didn't agree with me, she would show it. Nevertheless, we had a true loving and deep connection and she never criticized me, just exchanged opinions. There was nothing I couldn't talk to her about. I appreciated her hospitality, her demeanor, her intelligence and her wit. I was a rebel in those years, and not the easiest child, but I would never dare to hurt my oma's feelings.
My travels started in earnest when I reached my early twenties. "You gotta do it when you are young," oma said, as I set out for the next year-long adventure in South East Asia, sending post cards along the way and bringing back souvenirs for her from every country I visited; a habit I would keep up. Of course, she was always happy when I was back in Belgium, but – while curious about it – she never urged me to settle. She valued being kept up-to-date while I was abroad and read my travel reports with interest. My mom printed them out and she kept them all, as well as the letters and poems I wrote her. The file is 2 inches thick. She also once asked me to write a list of all the countries I had visited. It was her book mark and I was to update it each time I returned. I wonder where that list is. It is the only track record of my globetrotting.
When I reached my thirties, I was still not settled. Her "Do you think you will ever settle?" turned into "I have a feeling that you won't ever settle, will you?" accompanied by a smile. She knew me better than anyone. Years later, she would say "You will never return to Belgium, will you? I can't blame you. What does this country have to offer you?" and then, she would wave me off again, teary eyed. "Be safe and give my regards to Mark!" She liked Mark a lot. She could see we loved each other and that brought so much happiness to her. Whenever Mark joined me to Belgium for a visit, every other year, I would be their translator. For not speaking any English, my oma sure nodded a lot when Mark was talking to her. It must have been all those American and British soap operas she watched.
The last ten years, I have been creating a calendar for her with a big photo of Mark and I adorning each month. This way, I was still a part of her life and she could see us while we were thousands of miles away. She loved the calendars and looked forward to each year, when the thirteen new photos were revealed, as she slowly paged through the booklet. Every year, amongst other times, I called her on her birthday. No matter where I was, how remote the island, or how far removed from land, I found a way to wish my dear oma a happy birthday.  I could imagine her big smile on the other side of the line.
My aging oma was on my mind a lot (imagine my fear when, after I applied for a US green card twice, I learned I could not leave the country until the process was completed – we are talking about six months each time), and I tried to fly back to Belgium once a year. During those brief trips "home", I would visit her as often as I could. Initially at her house, in which she was still living throughout her eighties and early nineties. After her first question "How's your love life going?" was answered, we would spend hours chatting, looking at exotic photos, pointing out my current location on the world map and drinking tea with a cookie. Then, she would make chicken breast, rice, and sweet and sour sauce from a jar, or boiled potatoes with meat patties and warm cherries in a thick sauce for lunch. She thought those were my favorite meals, and I never told her otherwise. If I visited late afternoon, we would have dark bread and lunch meat for dinner. And always, she would offer me fruit or a treat. When prompted, she would reminisce about World War II or confirm how much she loved her husband and what a gentleman he was. My peter Marcel passed away too early, when I was about 16.
One day, I called oma from our boat in French Polynesia and I could sense something was amiss. She couldn't manage a conversation with me and handed the phone to one of my aunts who was visiting. That's when I found out about her short-term memory loss and that she could not handle talking on the phone anymore. Neither could she live on her own any longer. This moment – it still tears me up – came as a massive shock to me and I realized I had lost her there and then. Not physically, but mentally. It didn't take long before she moved into a nursing home and her house was sold. The house in which I made so many memories. The bed I shared with my oma when I stayed over. All the masks and souvenirs I had brought her from all over the world. The big black and white photo of my peter Marcel in his fire fighter outfit and medals that hung on the dining room wall. It is all gone, but bubbles up in my dreams and thoughts.
For the last three years, oma lived in a nursing home, where I visited her often during my stays in Belgium. It was not the same. I still loved her immensely and enjoyed being in her presence, but that strong connection we had, was no more. While I patiently repeated my sentences and answers tens of times, I smiled at my oma and appreciated her still being around. Her sense of humor never ceased. She still remembered episodes from the past and that I was her favorite grandchild. I was so glad and relieved that she kept recognizing me, even last year in May. Every time I left on the last of my visits to her, I feared the worst, that I would never see her again. My hugs and my eyes reflected this worry, but I didn't want to upset her. As always, I hoped that she could hang on another year. Before I returned to the US last spring, she was tired and fell asleep on her bed, underneath the colorful calendar. I sat with her, holding her hand, for a long, long time. As I looked at her fragile 95-year-old body, tears ran over my cheeks. It was the last time I saw her alive. As if I knew.
Mark and I recently booked flights to Belgium. While my oma's decline was imminent, I was wishing she could hold on, at least until June. It was not to be. Last Thursday, she suffered another series of strokes and on Friday, March 3rd, she passed away. I wasn't there! As with each loss of a loved one, another part in me died as well. While I realize she lived a long, happy, full life – she was born in November 1920 – losing her is tough. We had such a unique relationship and she meant so much to me. This last week has been a blur. Today, on International Women's Day, her cremation service took place in Belgium. I wasn't there! I could have been. When I found out the details of the service on Saturday, I booked a plane ticket to Belgium for Sunday and packed a bag. I would stay a week, be there for my family, attend the funeral, read my poem, and say a final goodbye to my sweet oma. Ten hours of hemming and hawing later, I changed my mind, cancelled the flight and remained in the arms of my supportive husband.
"When I die, I don't want you to buy an expensive ticket and come to the funeral!" my oma had always told me. "I would rather have you do something nice with that money." "We will see about that," had been my standard response. Just the thought of her dying, debilitated my brain. "Well, it would be a stupid waste of money, time and resources," she continued, "since I will be dead anyway. I won't even know you are there." As always, she had a point. While part of me regrets not being there today, I am with her in spirit, all the time, wherever I am. She meant the world to me and I will keep exploring that world, in honor and remembrance of her!
For Dutch-speaking readers of my blog, you can read the poem I wrote for my oma's service here.