About two months ago, something in Arkansas required our attention, in the form of a visit. We were in Massachusetts at the time sticking to an extremely busy schedule with a month-long stay in Belgium and a three-week house sit in Oakland after that. The trip to Harrison, AR would have to wait until our house sit was finished, but the planning occurred right then and there.
The distance from Oakland to Harrison is 2000 miles (3000 km), not something we wanted to drive twice with limited time, despite the good fuel economy of our Prius. Flights to the middle of Arkansas were expensive and still required other transportation to get to the airport and to Harrison. A one-way rental was also quite pricey and meant extra costs for fuel and accommodation. And, unsurprisingly, nobody needed an RV relocation to Arkansas.
"Why don't we take the train?" Mark suggested and a plan was born. We booked two legs on Amtrak, leaving from Jack London Square in Oakland at 9am on Friday, July 14th and arriving in Little Rock, Arkansas, at 11:30pm on Sunday, July 16th. The first leg – on the Coast Starlight – would bring us to Los Angeles in 12 hours, where we had a one-hour layover. The second leg – on the Texas Eagle – would take us the rest of the way in about 50 hours. We reserved coach seats for $350 in total. We would not have a shower, a bed and a warm meal for three days. Mark and I love train rides, so we faced an exciting adventure; an epic train journey.
Day 1:
"We have a problem!" Mark utters, as he barges into the bathroom, where I'm just pulling up my pants. Our friend Eric would give us a ride to the metro in a few minutes. From there, we would continue to the train station, well in time for our 9am departure.
"What do you mean?" I ask.
"The Coast Starlight is coming from Seattle and already has a two-hour delay. If we get on it, we will miss our connection in LA," he says. Eric is ready to give us a lift now, but Mark is making frantic phone calls for half an hour to see what's next. Eric starts work. We sit around, digesting the new, unappealing plan, and eventually get to Jack London Square by an incapable Lyft driver who does not know her way around the city. The 20-minute ride turns into a 40-minute one, but luckily, we took that into account.
What follows is a 6-hour (make that 7 because of an hour delay) cramped train ride inland to Bakersfield. Instead of wonderful coastal views, plenty of space and the freedom to roam and eat our lunch (Coast Starlight "privileges"), we are packed around a table with two other passengers and most of our luggage at our feet (the overhead bins are extremely narrow); our suitcases and cooler are out of reach.
Once in Bakersfield, we cram into a bus for 2.5 hours – 2 suitcases in the hold, cooler and food bag at our feet and two backpacks with electronics on our legs. The seats do not recline. Luckily, I do not get motion sick, but this is not what we paid and signed up for. My plan to write an article about the Coast Starlight is dismissed – so is the potential income.
Our next train leg from LA begins on time. We find our seats and are elated at the leg room and reclining capabilities of our "home" for two days and nights. We eat our salad dinner and try to sleep. It is hard with all the talking, coughing, phoning and strolling people in the corridor and through the heavy, sliding doors.
Day 2:
"The toilets in your car are not working anymore. Please, use the ones of the car in front of you. Do not enter the sleeper cars. I repeat…" The day has barely started when we hear the announcement. I am exhausted after a sleepless night on a half-reclined chair. Mark compares it to a night in business class, but without the service. I wouldn't know. I have never flown anything other than economy. And that is not likely to change. I have so many writing projects to work on. Instead, I gaze through the window, catch up on my diary and visit the sightseeing car.  Each time the train stops, we get out for a few minutes.
The train has AC outlets and Mark hooks up our Wirie for internet, the AC is cranking, defying the 90°F (32°C) heat outside. No excuses to be lazy here. I manage to squeeze out some emails. "It is the weekend," I remind myself. That helps to not feel guilty about doing absolutely nothing all day.
"PA check, PA check, PA check!" "PA check, PA check, PA check!" It goes on for 20 minutes. I'm trying to read a book. My headache from yesterday continues. "Shortly, I'm coming around to take dinner reservations. Enjoy a delicious meal aboard this train, cooked by our chefs." He is a funny one, this announcer. Our neighbors told us about the disgusting breakfast they were served in the morning. It was cooked in the microwave. We're glad we brought our own food.
Day 3:
5am: We lost 2 hours yesterday, crossing into New Mexico and then Texas. Our bodies are sore and tired. To them, it is only 3am, when the train stops in San Antonio, TX for a couple of hours. Everyone is up and about. Our train splits up here. Part of it continues to Louisiana, our Texas Eagle (with destination Chicago) receives a different locomotive and extra cars. Mark and I get off to stretch our legs. It is pitch black out. Then, we see our train leave. "Don't worry," one of the Amtrak attendants says, "it will be back in 20 minutes." We decide to have a big, unhealthy breakfast at Denny's: eggs, hash browns, biscuits and pancakes. It is Sunday after all and we have deserved a warm meal. My headache is gone.
10am: "We are running low on ice, so I can only give you these two cups," the employee in the cafeteria tells me. We need some ice for our cooler, not much, but more than this skimpy lot. Ice is said to be free on this long-distance train. I send Mark to work his magic. He comes back with a smile and two more cups of ice. Our (healthy) food will survive.
11:30am: "As you can see, the train has stopped. There is a truck stuck on the tracks. We have to wait until the railroad is cleared," the conductor's voice sounds over the PA system. I remember reading about "What to do when your car is stuck on railroad tracks?" when studying for my driver's permit. I guess this, really, does happen. Once in a conductor's lifetime, apparently!
12:10pm: We are moving again. The 40-minute delay could be made up later. We enjoy our sandwiches and fill our water bottles again. Drinking water is free on this journey.
1:30pm: We are stopped and the power disappears with a buzzzzz. No AC, no lights, no nothing. Soon, it becomes quite hot. The electricity has had hiccups before (ask Mark who has to re-set our router each time), but never this long.  Apparently, one of our engines has a problem. The power returns, the passengers sigh; the train is still motionless.
2pm: Our train has not budged. "We have a major problem with one of the locomotives. We have lost the compressor for the brakes. This is a serious issue. We have called in the specialists and they are on their way." The conductor has lost his cheery voice.
2:15pm: "The compressor is fixed and we are on our way." Mr. Cheery is back. I look at Mark in disbelief.
2:30pm: We stop again. The next announcement is inaudible. The intercom in our car must be broken. The electricity went off again as well. Our car is blocking a railroad crossing this time. Red blinking lights and ding, ding, ding. The pick-up trucks that are waiting on each side, turn around. Good plan.
2:35pm: The power comes back on. The conductor is walking around the train, outside. We are the last car. What is he doing?
2:50pm: The train moves a little bit to clear the crossing and stops again. The PA system returns to life. "We still have a problem with the compressor. The professionals are called in and are on their way. They will have a spare compressor with them in case they cannot fix this one."
3:20pm: "The mechanics are aboard and are fixing the compressor as we speak. Soon, we will be on our way again!" We are getting used to the familiar voice – and lies – now.
3:55pm: "The specialists cannot fix the issue.  We are calling in a tow engine, which will pull us to the next station, where we will drop off the passengers for Oklahoma City and their luggage. A bus will be waiting there for them. Then, we will be pulled into Fort Worth." We are still stuck in the middle of nowhere. This delay is huge and incomprehensible. For a moment, we think everybody needs to be transported into buses, but that misunderstanding is cleared up, once the PA system in our car works again.
6:35pm: We are moving! A freight train arrived 50 minutes earlier, to lend us an engine. It was supposed to take 15 minutes to get ready and go. Instead, it took much longer. Again, we don't seem to hear announcements anymore in this car.
7:25pm: The train stops in Cleburne, TX to offload the passengers going to Oklahoma who take a bus from here, because they missed their connection in Fort Worth. We sit at this station for half an hour and don't know why. This is becoming infuriating! No information, just a grumbling crowd. The way Amtrak "solves" problems is the epitome of inefficiency. On all accounts.
8:30pm – 9:30pm: We stand still in Fort Worth, where locomotives are swapped out. Mark and I eat our dinner with a glass of port and try to sleep. We each have two seats to ourselves. It is a bit more comfortable, but there is a lot of commotion in the car. We were supposed to get a good night sleep in a hotel tonight, because tomorrow is work day and we have a lot more travel to do and errands to run.
Day 4:
We arrive in Little Rock, Arkansas at 5:10am, with a 5.5-hour delay. There, we snatch an Uber ride to get to the hotel, for a few hours of rest, a shower and work. We are exhausted. We walk to the bus station in 100° heat and take a three-hour bus ride to Harrison at 11am.  A big billboard entering town warns visitors: "'Diversity' by definition means white genocide." We attend to our business as quickly as possible. Then, we have to get back. All the way to Northern California…
Conclusion:
Like most passengers on the Texas Eagle that day (and, believe it or not, but all the trains we took were fully booked), we are tempted to say "Never Again"! Long-distance train journeys have a certain appeal. Each one is an adventure. The ones on Amtrak even more so, it appears. What we have learned first-hand is that all the rumors about Amtrak are true. The company is ran very inefficiently and nobody seems to care about multiple-hour delays, reroutings or change of itineraries/schedules except for the passengers. It was an experience, but we are not jumping to do it again. Beware: anyone traveling on Amtrak's long distance trains should have lots of time, and no connections!
Tips for long-distance train travel on Amtrak
Mark and I did a bit of research about these trips online, before we left. It is how we discovered that food on the trains is very expensive and unhealthy. As budget-minded people, we had a small cooler and a bag of food with us, which contained all our meals – cereal, milk and fruit for breakfast, bread, cheese and veggies for lunch and pre-packed salads and home-prepared Asian noodle salads for dinner. And lots of salty snacks.
Other than your preferred snacks, food and drinks, we recommend each passenger to bring:
Patience
A blanket
A pillow
Toiletries, towel and wash cloth
Patience
A sweater and socks
Entertainment (book and/or electronic devices)
A refillable water bottle
More patience
Have fun traveling on Amtrak. Just beware of delays and don't expect too much!
Update: After Amtrak customer support ignored my long complaint letter for a week, we called them. For half an hour, we explained our experiences and disappointment to multiple people, requesting a refund. Amtrak's policy is to never provide refunds after the dates of travel. We did, however, receive an Amtrak voucher with lots of restrictions. "Free train trip, anyone?" I would offer, but, the voucher is non-transferable and Mark has to be one of the passengers…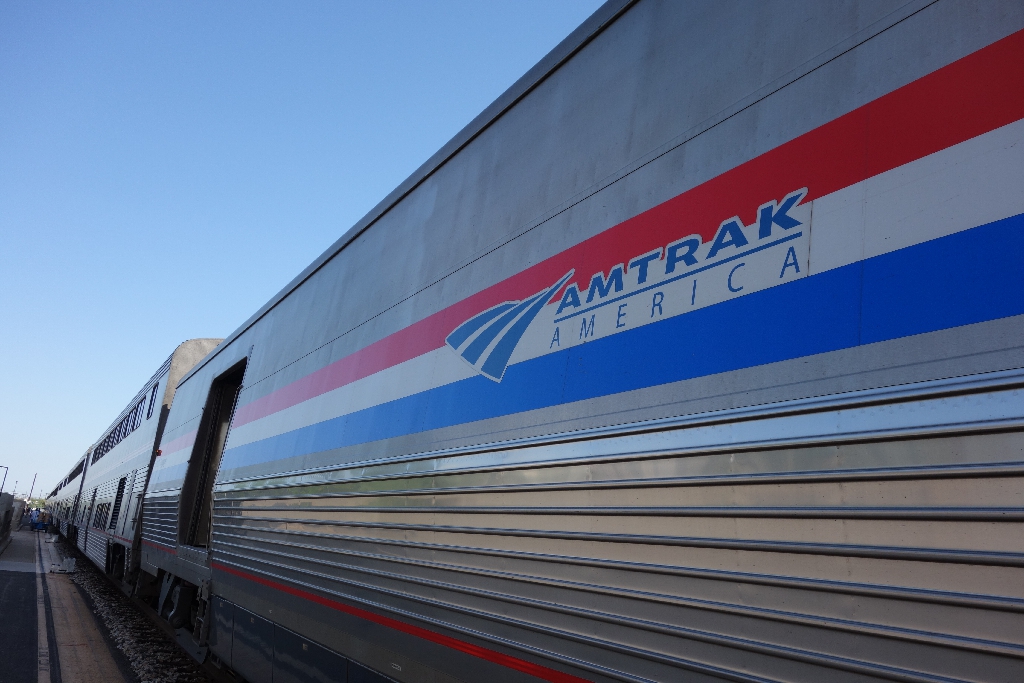 Have you ever taken a long-distance train? From Amtrak? In Europe or Australia? Elsewhere? What was your experience?