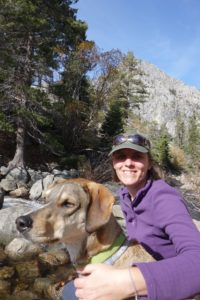 One of the exciting things about our life as house and pet sitters, other than living in comfortable houses for free, being in the company of the most amazing dogs and experiencing different neighborhoods, is the opportunity we have to explore different areas of the United States. Wherever you live in this country, there are always a lot of places to go for a hike or impressive sites to discover within driving distance.
Lake Tahoe, located on the border of California and Nevada is the third deepest lake in North America. It has a remarkable water clarity and is surrounded by boulders, sand and snow-capped mountains. To say it is picturesque is stating the obvious. Only small parts of its shoreline are developed, which means lots of outdoor activities abound in the many state and federal parks that abut it. The Lake Tahoe area is located two hours east of Rocklin, CA, where Mark and I are currently house sitting for three months. Knowing winter is on its way, we took advantage of a sunny weekend to revisit Lake Tahoe with our current three-year-old dog Hercules. Mark and I last passed through over a decade ago. While the high temperature would be in the lower 60s – but was actually in the 50s (10°C – 15°C) – it already freezes at night, so camping was out of the question. We stayed in a cheap pet-friendly motel for one night instead and hoped for an early start.
Our Saturday began with a decent delay, however, when, after an hour on the road, Mark had a particular doubt in his head. "Did we close the garage door?" Not used to parking inside with our car and then pressing the button when leaving, we didn't know whether this had become a habit yet or not. Just like on our boat, when we didn't remember whether we shut all our windows before dinghying to shore, I couldn't tell for sure. Habits are a funny thing. You actually don't remember going through the oh so familiar motions. Just like on our boat, we turned back. Of course, the garage door was shut. Just like our hatches at anchor, 99% of the time!
It was a gorgeous day and – not knowing any better – I had selected one of the most popular dog-friendly hikes of the Lake Tahoe area as our objective for the afternoon. To say it was busy is an understatement. All the parking lots were swamped, tourists were parked along the road, human bodies were everywhere, the trail was packed. When we finally managed to grab a narrow parking spot, we prepared for the commotion. We had our lunch at a quieter viewpoint (ignoring the "Wedding in Progress" sign since there was no soul in view) and then started on the Eagle Falls Trail. While the scenery was spectacular, the business of the trail was not something we were used to anymore. Every few yards, we had to step aside to let oncoming foot traffic go by in a single file, or others moved out of the way for us and Herk. We steadily and slowly climbed past Eagle Falls and onward to Eagle Lake. Screaming children made this peaceful environment less enjoyable, but, it was very pretty. On the way down, we made a little detour and had a more relaxing experience.
Along the road to our accommodation, we stopped at Fallen Leaf Lake with the intention to hike partway around it. But, we were out of drinking water and the adjacent campground was closed for the season, so there was no chance to refill our water bottles. Since it was still early, we drove to South Lake Tahoe's shore after checking in and filling our bottles. Initially only seeing "no dogs" signs, we did find a dog-friendly beach after a bit of exploring. Herk would have loved to be off-leash, but Mark and I did not want to take the chance of losing him here, so far from home… As a greyhound mix, he does have instincts that overrule commands sometimes.
Sunday was another sunny, relatively warm day, and we did much better picking a trail for our day hike. When we arrived at the new Van Sickle Bi-State Park on the border with Nevada, the parking lot was not flooded, a good sign. Mark, Herk and I followed the incline of the Connector Trail, all the way to the Lake Tahoe Rim Trail, 2.5 hours into the sierras. The path climbed steadily for about four miles and followed the edge of a mountain, through forests and along boulders. We stopped once for a great view and then walked on without stopping.
Mark had a headache as well (mine started the day before), which confirmed that it had to do with the altitude. We were above 7000 feet and – again – not used to that at all, living at sea level for eight years. The pain eased as we descended later on. We had our packed lunch overlooking ski lifts and ventured back down to our car afterwards. The return hike only took an hour and a half and we were rewarded with non-stop Lake Tahoe views. We felt satisfied with the exercise and decided to go home, where the temperature rose into the seventies (twenties Celsius). Herk slept the whole drive back!