(Oakland, CA – February 14th to February 21st, 2017)
A little while ago, Mark and I saw a house sit posting in Oakland, California that sounded just perfect. We still had a little gap to fill between our time in Costa Mesa and our current, two-month house sit in Sebastopol, and the listing we were eyeing promised to be "an oasis" in the middle of the city. Mark and I immediately thought back about the time and place we met, a desirable, pedestrian-friendly area of Oakland called Rockridge. Based on the description of this potential sit, it had to be in a similar area. After our one-week sit in Fairfax, we decided to swing by the place and meet its residents on our way south to visit friends, and then continue on to Costa Mesa.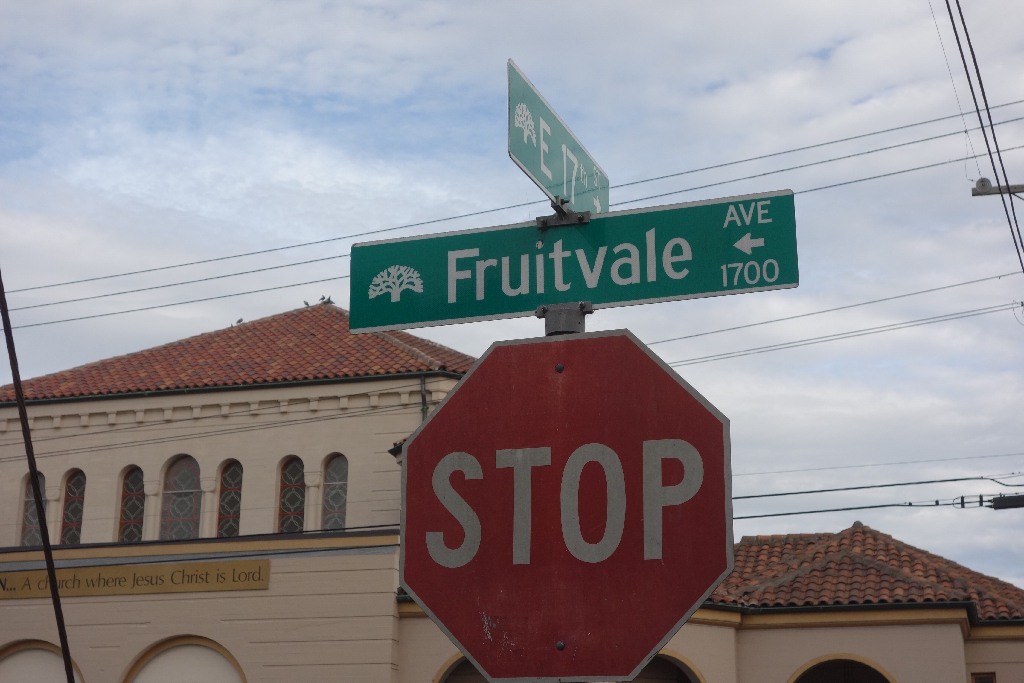 Following the GPS directions, we arrived at Fruitvale Avenue. "This can't be right," Mark mumbled, as we drove along the dirty road with cars haphazardly parked and small stores reminding us of the ones in Central America. He knew the area and its reputation. Then, we turned into one of the side streets. Every house had a metal fence and bars in front of the doors and windows. Garbage was littered on the street and along the cracked sidewalks. Paper, plastic, cardboard, ripped cushions, discarded computers. The houses appeared dilapidated and every car had scratches, dents or parts missing. "You have arrived at your destination. The road guidance has now finished," our GPS voice concluded. "There must be another address like this in Oakland. What is the zip code again?" Mark asked. "94601," I read from my email. "This must be it then," Mark sighed.
We parked our red Prius with enough space around it. We got out of the car, which held all of our belongings, looked around sheepishly, and made sure we locked it. Then, we made sure again. We opened a gate, knocked on one of the paint peeling doors and met the female owner and her three dogs. Chaos ensued, as the two small ones barked and charged through the door, which set off the big dog, held in a cage. While still a puppy, he was huge and he had a broken leg. We were introduced to the three animals and had a quick tour of the small and messy house, and muddy back yard. "The hot tub doesn't work anymore, but feel free to pick as many lemons as you possibly can," the owner said, pointing at a laden lemon tree. "The dogs never go on walks. They stay in the yard. But, make sure you clean up all the poop and stay on top of that, because I have a tenant in the back." We looked at the separate building in front of us and all the other structures in her small "tropical oasis" garden. There were three in total, one an Airbnb cottage she rented out to visitors. Tourists, here?
"We can still cancel this sit," I said to Mark, once we were seated back in our car. We needed a moment to let everything sink in. "Do you feel safe here?" he asked. I let out a massive sigh. "Between all the metal gates and doors and the dogs, I don't think we have anything to worry about, inside the house. And we can park our car in the driveway, once she leaves with hers," I replied. "We will have to make sure to be back inside the house before dark. She was adamant about that," I continued. "Yep. It is not the greatest neighborhood," he stated the obvious. "I can't believe she told us she got T-boned in her car and then robbed recently. Why would you tell your house sitters that, right before they are going to stay here?" I was in awe about her lack of tact. "Well, I think it will be OK," Mark said, "And, it is only for one week." "That's true. It sure will be an interesting experience," I suspected.
This area in Oakland became well-known thanks to a police incident and the ensuing 2013 movie "Fruitvale Station", which we watched on Netflix during our stay a few blocks away from this infamous BART-station. It is a great movie we recommend watching. We frequented the grocery store "Farmer Joe's", which still looks exactly like in the movie, and we walked big stretches of Fruitvale Avenue, mostly in search of taco trucks and to buy fresh produce. Unlike in the movie, our area was more Hispanic than African-American. The whole time we were there, we did not see another white face and English was the second language. All the signs were in Spanish, even the menus inside the restaurants. For the first time in a long while, we felt like we were traveling abroad; we loved the friendly, foreign atmosphere. We did manage to get home before dark, sometimes barely. But, the amazing tacos were worth it!
It rained during most of our week-long stay in the hood, which made it hard to deal with all the dogs, especially poor Hank. We had strict instructions to take him outside via the front door (the least number of steps), around the house and to the back yard for his potty breaks. Despite his sedating pills, he was always very excited when we opened the door to his crate and we needed to be really careful and adamant about his plastered leg. We patiently put a waterproof boot around his back leg and, on a leash, refrained him from running or jumping. Chaz and Teddy needed to be locked in another room, while we dealt with Hank. We felt so bad for the guy, that we gave him an extra potty break after lunch and added some time and space to cuddle. Poor pup!
While the other two dogs were easy to care for, Chaz was a bit of trouble when left alone, which didn't happen often, since we stuck to our work schedule during the week and the weather was awful. Teddy was a sweetheart, always ready for a cuddle. Whenever Mark and I left the house, the two of them (Hank spent 23 hours a day in his crate) sat in front of the window until we came back!
We did have a chance to meet up with friends from when Mark lived in Oakland and one day, we finally made it back into San Francisco. It had been twelve years since we last visited "our city". While it was biting cold and overcast, we enjoyed our walk along the bay and gazed over Alcatraz and the Golden Gate Bridge. When the sun peeked through the clouds, I felt very happy to be back.
Surprisingly, we didn't hear any gunshots during our stay, but the noise of cars, sirens, Latin tunes, alarms, honking cargo trains and zooming BART trains made it hard to sleep.  Despite the dinged cars along the street, the double-parked vehicles and trucks not having enough room to turn around at the end of our street, our car remained unscathed after two nights on the street. Despite the double homicide that happened right outside our front door a few years ago (which we read about in the owner's memoir while we were there), Mark and I survived our week in the hood and we are yet another experience richer!
Best feature(s): An ethnic neighborhood with great tacos, friendly people and the sense of being abroad. The Airbnb unit proved to be the perfect escape office for Mark.
Best gadget(s): A water cooker with different temperature settings. The one for "green tea" was ideal! We could drink our tea almost immediately after pouring, instead of having to let it cool for at least 10 minutes. The correct temperature did wonders for the seeping as well – the flavor of our tea was perfect.
Surprise(s): The dogs did not have any toys at all and urgently needed a haircut. While I'm sure the owner loves them and is overwhelmed with life's tasks, we think they could be better taken care of.
Downside(s): The area was not desirable and the house was not as clean as we have become accustomed to. Both were a bit misrepresented in the listing.
You can read about all our other completed house sits here.
Have you seen the movie "Fruitvale Station"? What did you think about it?