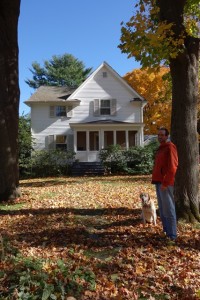 Mark and I are spreading the word about our inclination and availability to house sit for people needing to leave their home and pet(s) for a little while, either for pleasure or for work. When we brought this up to our brother-in-law a little while ago, he agreed it would be a good idea for us to move into his cottage while he went on a two week vacation. He is the caretaker of a beautiful property in Greenwich, Connecticut and lives on-site. The Manhattan-based owners of the domain were equally pleased with our suggestion to watch the cottage (the main house is set back on the property), the dog and the two cockatiels.  We were not in charge of the property by any means, but kept an eye on things, taking action whenever something would go amiss. It would be our second house sitting position, not too long after the Gloucester one.
Since we have visited this extensive, well-tended place many times in the past, we knew what to expect. After bringing our family member to the airport (a service any home owner appreciates if available), we quickly started a routine of taking care of the pets and having 8-10 hour work days behind the computer, interrupted by a walk around the property – playful dog in tow – followed by bringing in the mail and sorting it. Every day, I picked a few apples straight from the trees in the orchard. They were fresh, juicy and oh-so tasty! Another bonus of the lovely fall season.
Once in a while, we would say hi to the beautiful and majestic horses in the fields or the barns and during the weekends, we explored the area a bit.
Mark and I enjoyed the peace, space, comfort and privacy, while all owners rested assured, with the knowledge of having a responsible couple in the cottage. A win-win situation, especially for the dog, who received more attention and company than ever, trying to trick us into handing out more treats than usual. But, no luck for her, since we abide by the rules… most of the time!
Best feature(s): Big property to walk around and pet the horses, vibrant fall colors, unlimited supply of fresh apples
Best gadget(s): A state-of-the-art "killer" blender to make smoothies
Surprise(s): A gift certificate to eat at our favorite restaurant
Downside(s): It was getting cold as winter approached