Mark and I have been so incredibly busy the last month and a half that I am way behind with my "Completed House Sit" section. Today, I'll summarize our four and a half month sit in Heath, MA over the spring and the summer.
A lifestyle of house and pet sitting offers a lot of diverse and interesting opportunities. It is a great way to meet new and interesting people, find out what you like (and don't like) about a certain location, try out different types of houses and neighborhoods, get acquainted with all kinds of pets, breeds and behaviors, and discover the pros and cons about any situation. While we have enjoyed all of our sits, we have not found a place where we could live "forever". And, while we have been pretty comfortable everywhere we stayed, we have also experienced firsthand the things we are less fond of.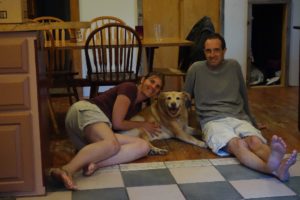 Our four and a half month sit in Heath was special in many ways. First, it was the longest time we spent in one place, which gave us plenty of opportunity to explore the area. Second, it was on a maple farm with many wooded acres surrounding it, which was beautiful to say the least. Third, it was over the summer, the nicest period in New England and that meant we could enjoy certain facets of that time of the year. Fourth, the owners of the house were the most laid-back people we have ever house sat for. As with many things in life, there are pros and cons to every situation. In this particular case, we were very fortunate with all the freedom and flexibility they gave us. We could take their dog Jenny wherever we wanted, go camping during the weekends, make a three-week trip to Belgium (Liesbet) and have guests visit for the day or longer. Once the home owners left their farm and moved to their "second life" on their sailboat in the Pacific, we were mostly "on our own", sending updates that might get a response, or not. Of course, we understand the lack of internet while cruising. We have been there, for eight years!
But, the "out of sight, out of mind" attitude and laid-back mindset, grated a little bit with our (overly?) responsible and caring behavior. When we arrived, for example, the house and the yard were a bit of a mess. While it usually takes us a day to get settled in our new living quarters, it took us a week to clean and organize the house in Heath. We piled outside – and inside – rubbish in bags, drove many weeks' worth of garbage and recyclables to the collection center, did a few loads of laundry left behind in the basement, emptied the fridge of expired food items, and generally cleaned the two floors to make them livable for us.
While it is a small cost to be living somewhere rent-free, usually a home is left in clean condition when we arrive and we are supposed to leave it the same way, or better, when we vacate the property. In this case, it is safe to say that we left it better. 🙂 It is not so much the effort and time we had to put into getting settled, but more the lack of respect of our time we felt that was given to us, the house sitters. We are not paid help and we do have own lives to lead, wherever we go. A lot of stuff broke while we were living at the (unfinished) 20-year-old house as well, something Mark and I also contribute to an attitude of "procrastination" or "laissez-fair".
All that being said – an insight into the lifestyle that is rarely shared publicly – Mark and I are not looking for the "perfect house", of course, and didn't mind all the quirks that came with this one. We had a great summer up in the hills. We enjoyed the company of Jenny and took her on many outings, most of which you can read about on this blog. We learned a bit about the maple syrup business, met and had fun with many members of the family and took care of the maple stand with pleasure. It was cooler at the house than in the valley, but we still enjoyed all the sunny weather, sitting in the yard, growing vegetables and hiking every weekend. No AC is needed here and while we wore shorts and T-shirts during the day, a sweater was often needed inside the house at night.
After four and a half months, we were glad to move onto other adventures when September came around. The memories of Heath and all the area has to offer, together with all the Jenny moments will stick in our minds for quite some time. For next summer, however, we look forward to house sitting somewhere a bit more exotic! 🙂
Best feature(s): All-you-can-eat artisanal maple syrup! Solitude and peace.
Best gadget(s): Herb scissors, a blender (after we fixed it), a bread machine, a high quality treadmill, a big grill (someone had left behind), inner tubes to go river tubing (after we fixed them).
Surprise(s): The condition in which we found the house upon arriving. Their request that we were to bring them to the airport, an hour and a half away, without ever bringing that up with us beforehand. The abundance of flowers in the yard that continued to appear over the entire period of our stay, and the quietness of rural living.
Downside(s): A number of things did not work properly in the house, but we found ways around the issues (or solved them). The main shower had little pressure (I cut my hair and used the downstairs shower every morning). The lawnmower broke, both cars broke down, one of the burners gave up…