When Mark and I talk about our current lifestyle of house and pet sitting, people always ask how we find all these places. Unbeknownst to many, there is a whole community out there of people who house sit, are looking for house sitters or make money with the house and pet sitting concept. There are Facebook pages, forums and blogs about house sitting and the model has been introduced all over the world.
For people who have a home and occasionally want to house or pet sit, word of mouth can help secure sits in their own area or with friends and family further afield. Most house sitters, however, use one or more of the services available online. House sitters are either looking for a free place to stay in an interesting location as part of a vacation, desire a change of scenery during the weekend or for short periods of time or have abandoned their traditional life to adopt a long-term lifestyle of house and pet sitting, like us. Some house sitters expect payment for their services, others find the exchange "free accommodation for taking care of people's home and pets" fair enough. Some home owners charge for utilities during the house sitters' stay, most include them. Some sits include animals to care for, others only require a presence in the house. Home owners are looking for responsible sitters from one night to one year and sometimes even longer. They will mention in their ad whether the house is kid-friendly and whether the house sitters are allowed to bring their own pets, or park their RVs in the driveway. The listing usually specifies whether the owner is looking for a couple or single person as well.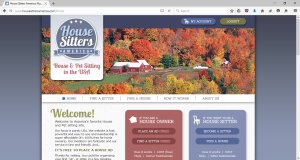 House sitters pay an annual fee to use online house sitting services, while home owners can often join for free, with the exception of Trusted House Sitters. Quite a few house sitting websites exist and a Google search will reveal most of them. Our favorites, the ones we signed up for and receive notifications from, are Mind My House ($20 a year, www.mindmyhouse.com), House Sitters America ($30 a year, www.housesittersamerica.com, they have an equivalent website for New Zealand and the UK as well), and Trusted Housesitters (www.trustedhousesitters.com). At $119/ year for house sitters and owners, Trusted Housesitters is the most expensive, but also the most extensive house sitting site. You can usually find coupon codes online, or you could use this link for a 20% discount.  We have secured house sit positions through all three sites. Another popular site is House Carers ($50 a year, www.housecarers.com) for which we have not paid (yet), but receive notifications.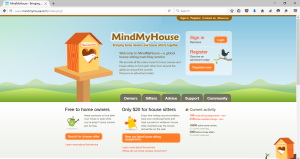 Browsing these websites to see all the listings and profiles, and sometimes even creating your own profile (without photos) is free. This way, you can get a feel for which site(s) might work best for you. Once you want to contact a home owner or you need to respond to a private message, you have to pay the membership fee. As a registered house and pet sitter, you want to create an attractive profile (more about creating the perfect profile in a future post), upload some photos and get your ad live as soon as possible. This way, home owners can find you, and when you apply for a position, your profile will automatically be added to your message.
The next step is either filling out your preferred locations and/or requirements for a sit and receive the corresponding listings in your inbox, or browse the sites to see whether anything strikes your fancy. The whole process is fun, but time-consuming as well. Unless, you are very specific or limited. At the moment, Mark and I are mostly interested in longer term sits (one month or more), without cats, throughout North America. I delete the notifications that don't fit our requirements. The ones that do have potential are scrutinized online. I read the full listing, look at the photos and contact the home owners with questions. If there is a listing that really stands out and excites us, I apply by writing a long message explaining why we are the perfect people for the job and I encourage the owner to read our profile and check out our blogs. Usually that does the trick and we land the gig after some communication back and forth by email, phone or Skype.
It also happens that home owners contact us directly, after having found our profile. If those proposals fit the bill, we are pretty much guaranteed the position without competition, unless they contacted several people. Mark and I have been fortunate to find interesting house and pet sitting opportunities and have enjoyed the comfort and variety this lifestyle offers since October 2015.
Update: As of December 2017, Mark and I are not members of Trusted Housesitters anymore.