Every first Wednesday of the month, the IWSG (Insecure Writer's Support Group) encourages writers to share their fears, thoughts, progress, struggles, excitement, encouragement or anything really about their writing. A different question is posed each month, as a writing prompt for IWSG members. Answering it is optional. For June, that question is "Did you ever say "I quit"? If so, what happened to make you come back to writing?"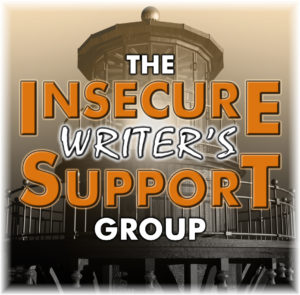 This amazing, supportive group of writers was founded by Alex J. Cavanaugh. Today, the inspiring and accomplished co-hosts are JH Moncrieff, Madeline Mora-Summonte, Jen Chandler, Megan Morgan, and Heather Gardner. Feel free to swing by their sites and see what they are up to. Don't be shy.
I can hardly believe another month has passed. And, what a month it has been! Since a writing UPdate usually involves some progress, accomplishments, change in status or at least some UPlifting writing tidbits, and none of that has happened in my May, I am inclined to call this post a writing DOWNdate. As in "thumbs down" instead of "thumbs up" when it comes to my memoir. In the month of May, I managed to work on my book for a total of three hours, at the library in Newburyport, MA during our hectic three-week stay at my in-laws' condo. Yep. That is all. Since arriving at my childhood home in Belgium on May 21st, I haven't even had the space in my head to think about my book, let alone take action. Maybe I am excused from writing duties when visiting family?
I had also signed up for the new Book Club of the IWSG and therefore committed to reading the book "Chapter After Chapter" by Heather Sellers by the end of May. I failed! I read a few chapters during our last house sit in Sebastopol and took some notes, but then, once I entered the first plane, all this ceased. Luckily, the discussion online is accessible indefinitely. I'll be sure to check out what has been said later this month.
The more I read blogs of other writers, the more I believe they are the "real deal" and I am not. While I enjoy writing and have been practicing the habit for personal use since fourth grade in the form of diaries, travel reports, blogs and articles (first in Dutch, then in English), and while I can be passionate about a story or book idea, my life is just not cut out to be a full-time or highly committed writer, like most of my peers. If I can call them that. I don't make a living writing; barely a pittance with some articles. And, the grand idea and promise to write my first memoir stalls often and long-term, due to our lifestyle. You see, while I truly and honestly would like to have a boring year to totally focus on said memoir (I really tried, believe me, I want multiple-month, uninspiring house sits – yet can't help being attracted to the more exciting ones), it just does…not…happen. We roam about and need to explore. Too much. But, that is for another post.
I never say "I quit" and I don't really ever quit writing. I just take long breaks, depending on how our life evolves and which priorities take over. I get back to writing, when circumstances allow and when life gets a bit quieter. I might not have focused on my book at all in May, but that is because we have been super-duper, crazy busy with other commitments and initiatives. I won't bore you with the details, but last month has been filled with multiple doctors' visits, helping my in-laws, getting a Massachusetts driver's license, downsizing Mark's belongings, co-organizing a couple of events, meeting friends and family, two flea markets, co-hosting for the IWSG, crossing the country and the Atlantic ocean (by plane), a yet secret development, and once in Belgium, organizing another garage sale, downsizing my stuff, playing with my niece and nephew, more doctors' visits and going on one long weekend. June started with more of the same, but for our first adventure of the month, you will have to wait until next week. 🙂
Writing in earnest will resume on June 22nd, when we start our next house and pet sit in Oakland, CA. I even wrote it in my calendar, so I vouch to glue myself to the keyboard again!
For writers, how has your writing progress been in May? For other readers, did you accomplish anything substantial last month? (Please, say no…)