Every first Wednesday of the month, the IWSG (Insecure Writer's Support Group) encourages writers to share their fears, thoughts, progress, struggles, excitement, encouragement or anything really about their writing. A different question is posed each month, as a writing prompt for IWSG members. Answering it is optional. For October, the question is "Have you ever slipped any of your personal information into your characters, either by accident or on purpose?"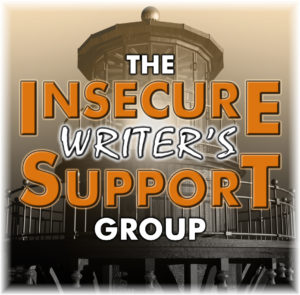 This amazing, supportive group of writers was founded by Alex J. Cavanaugh. Today, the accomplished co-hosts are Olga Godim, Chemist Ken, Jennifer Hawes, and Tamara Narayan. Feel free to swing by their sites and see what they are up to.

As a non-fiction writer, my answer to this month's IWSG question is easy: all the time, and on purpose. 🙂 Unfortunately, none of this has happened recently, since writing my memoir has temporarily come to a halt. Let alone writing articles. In September, just like in August, my help was needed with our business. Because of this, I have reached the "danger point" of two months of inactivity, after which it is easy to think "Why bother anymore? I have enough other projects going on." In the meantime, I've been reading books by writer friends, and have been confronted by a few realizations. They can write well. I can't. They are determined. I don't seem to be. They manage to finish sensible, attractive, compelling and finished manuscripts. Will I ever? But… not to be despaired. I'll get back to it, this month, and maybe even with a better approach, if not more enthusiasm. Breaks can be beneficial.
It took me four full months, due to a lack of time and other priorities, but I finally finished reading the book I have been enjoying since June. When I learned how (successful) writers read 50-100 books per year, I was shocked. I have a hard time believing it. When do they have time for this? We all have the same 24 hours a day. I love reading as well, but there always seems to be something more important to do first. And, no, I don't watch TV in the evenings. I want to read. And, this particular book was always within reach, just in case I had a moment. After many of those moments, I read this original and compelling book cover to cover, and loved it. Hence my desire to post a review of it.
"Border Line" by Hilary Custance Green
Book blurb:
"Of course, love is the ultimate luxury, but I am unwilling to continue in the certainty of its absence."
Grace, racked with guilt, is searching online for ways to die and she finds Daniel. Like a pied piper he leads her and nine other people on a trek across Slovenia. For twenty-one days, they share stories and secrets, play games, surprise themselves with laughter… and make their final decision.
Border Line is a passionate love story told against the backcloth of the Slovenian landscape. It tackles contentious issues around suicide and assisted-dying and is both thought-provoking and ultimately uplifting.
My favorite quote:
"Guilt is a hungry beast; it has eaten into the spaces where love could grow." (page 6)
My five star review:
From the moment I read the blurb on the back cover of this book, I was hooked by the premise of the story. The idea is original and my curiosity about the plot was peaked. A considerate and compassionate leader guides a group of ten suicidal adults through their last 21 days on earth. Contrary to what one might expect, the writing style and impressions are not pessimistic or negative. The author incorporates humor, friendship, sympathy, love and an array of other emotions as situations occur.
Green has a way with words, making this book a joy to read. She uses the "show, don't tell" method cleverly and draws the reader into the story because of her direct approach. Using the first person for the protagonist makes the story more personal, as if this woman is a friend you are trying to understand and support, but most of all want to help change her mind. The other characters received the same attention for detail. Their personalities are thought-out, believable and relatable. Everybody has a story; each of them slowly revealed as the book progresses. Chapter after chapter, you want to find out more about every person involved and Green delivers.
Not only is this book well-written and well-constructed, it also has an incredible setting. The story takes place in Slovenia, a beautiful, but lesser-known European country that has a lot to offer on a cultural and natural level and that is starting to gain popularity. The description of places and interactions the characters have with the local population make you want to visit yourself.
As a pretty picky person when it comes to books and movies and as someone who values her precious time off, I thoroughly enjoyed reading this book. Every day I was not able to read even a little bit (which was frequent these last months, because of my extremely busy work schedule), I looked forward to the moment I could pick up the book again and discover more about the characters, their back story, their connections, their relationships, and their decisions.
I highly recommend "Border Line" to people who like reading stories about passionate characters, love and friendship, unconventional subjects and/or inspiring back-drops.
For more info, check out Hilary's blog, Hilary's Author Website, or About Hilary.
(Read the same review on Amazon here and on Goodreads here.)
How many books do you read per year? Any current favorites?