Liesbet's Bio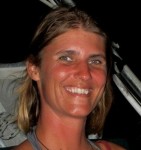 Liesbet Collaert is a bilingual translator, proofreader, freelance writer and photographer from Belgium who has been writing and traveling her whole life. She specializes in sailing and cruising articles and has been published in all the major US, European, and Caribbean sailing magazines. Her (feature) stories and photos have appeared in Cruising World, Sail/Multihull Sailor, BWS/Multihulls Quarterly, Islands, Latitude 38, Latitudes & Attitudes (discontinued), Living Aboard (discontinued), Yachting World, Sailing Today, All At Sea, Caribbean Compass, Zeilen, and Varen. She has also been interviewed by IWAC (Interview with a Cruiser project), World Reviewer, Multihull Sailor, Infogem, and Flair, and has contributed to extensive cruising surveys for All At Sea and Caribbean Compass. She is currently working on a memoir about her eight-year cruising journey and unique life experiences.
About my writing:
A love of traveling combined with a love of writing results in the birth of travel articles. Add to that a sailboat as the means to travel and sailing articles emerge. Life on the water is different and unique, providing enough material for plenty of cruising articles. Visiting sights on shore, enjoying adventures in tropical settings and experiencing different cultures result in the deed of travel writing.
I am a teacher turned freelance writer, born and raised in Belgium, and have traveled my whole adult life. I write articles in Dutch and English for people interested in expanding their horizons, traveling, adventure, a different lifestyle, sailing and cruising. During our last eight year adventure, my husband Mark and I lived, sailed and worked on our 35′ catamaran Irie. We left Annapolis, MA in the United States in October 2007 and traveled throughout the Bahamas, Turks and Caicos, Dominican Republic, Puerto Rico, the British and US Virgin Islands and the Eastern Caribbean islands. In the fall of 2011, we sailed through the outer islands of Venezuela, the ABC islands (Bonaire, Curacao and Aruba) and Columbia, to end in Panama around the beginning of 2012. In January 2013, we transited the Panama Canal and spent some time in Islas Las Perlas, followed by two months in the Galapagos Islands. A three week Pacific Ocean crossing brought us to French Polynesia, where we made landfall in the Gambier Islands. After two months there, we sailed to the Marquesas for cyclone season. In February 2014, we explored some islands of the Tuamotu archipelago, before arriving in the Society group, where we island hopped for two years. We sold Irie in August 2015 to semi-settle in the US as house and pet sitters and focus on our freelance careers.
What makes my writing different from many other articles and blogs, is that I say it the way it is, instead of automatically turning every destination into a story fit for a glossy travel brochure. Check out my published work here.
If anyone is interested in obtaining or commissioning travel articles about the countries we have visited, the sailing adventure or the cruising life, or in a weekly/monthly column, please get in touch with me via the form underneath. Our life will never be boring! 🙂