As a frugal, down-to-the-basics kind of girl, I don't own much and I don't value material goods like most people do. This has been a trend my whole life and allows me to be free. I love downsizing – from not much to even less – to keep things organized and manageable. I enjoy making my life as simple (and cheap) as possible. Decent health, love from (and for) my husband, enough money to put food on the table and live a relatively comfortable life, and the right dose of excitement and adventure is all I need. Of course, I have some clothes as well, even though most of them are 10+ years old. At the moment, we have a car which holds everything we need, and we each have a computer, which is required to make money (and post blogs :-)). My camera is my most important gadget, with my iPad coming in second. Oh, and I do have a Fitbit, but don't tell anyone! When asked about my most cherished object, however, the answer is the one thing I have held onto and used every single day for over 25 years. It is my most intimate and valuable companion, the only one that knows me through and through, contains all my secrets and has been by my side from the age of 14 forward, for better or for worse, for richer, but mostly for poorer, in sickness and in health, until death do us part. I am talking about my diary.
Over the years, my diary has changed many forms, from tiny agendas to completely filled notebooks to sturdy appointment diaries with a page for every day. The hardcover yearly agendas suited me best, but I scribbled along the edges and on every blank spot I could find; I struggled with my one-page restriction. At an average time commitment of ten minutes a day over a span of 26.5 years, about 1612 hours (67 days) of my life have been spent writing diaries up to this day. In January of this year, I gave up the pen and paper tradition and I now use the app Day 1 on my iPad. Without the one-page restriction, I find myself writing in my diary for 15-20 minutes a day, plus the revisions. You see, my diary and me, we spend a lot of time together. "Will you ever read them again?" is a question I often receive. My answer: "Sure, when I get bored." The problem: I never get bored and those boxes of diaries are safely stored at my parents' house in Belgium. But, I do envision a 75-year old Liesbet in a retirement home, reading through her ramblings and notes, smiling back at the adventures and memories of a lifetime. Meanwhile, the diaries keep my mind active, offer a reflection of each day – one more exciting than the other – and are a great resource for all those memoirs I plan to write!
Once a year in July, Cherished Blogfest organizes a blog hop/event in which participants share something they cherish in a blog post. This is my entry for 2016.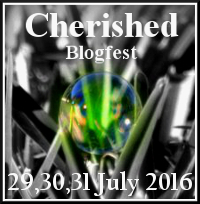 What are the things you cherish? Are they with you all the time?