Every first Wednesday of the month, the IWSG (Insecure Writer's Support Group) encourages writers to share their fears, thoughts, progress, struggles, excitement, encouragement or anything really about their writing. Starting this month, they have added a question as a prompt to get the juices flowing: "What's the best thing someone has ever said about your writing?" It has been a while since my last "book update", so today is a good day for some insights and an answer to that question.
The Background
As some of you know, my biggest passion is traveling. Since graduating at 22, I have been on the road or on the water full-time for 14 out of the 18 years. I'm not sure whether to count our current lifestyle of house and pet sitting as traveling, since we are semi-settled "abroad" (for me anyway), but still explore different parts of the country while at it.
The other thing I have been doing most of my life is write. I have always enjoyed writing and have been pretty engrossed by it since I started my first diary at the age of 10. Only recently I realized that "all" I am actually doing, is write: diaries, blogs (replacing the email reports and letters I used to send out), comments, emails, articles, cover letters for translation jobs, article submission and house sitting assignments… Except for the weekends, I am always sitting behind my computer; and I am always writing. Other than a bunch of published articles, none of my writing has had any serious meaning or intent. Last November, I also decided to focus on writing a non-fiction book, loosely centered on our eight year sailing journey.
The Idea
From the beginning, I wanted my future book to be or do many things:
Read like fiction
Contain engaging dialogue
Show, not tell
Use flashbacks and foreshadowing
Avoid clichés and too much chronology
Engross the reader
Inspire the reader to be adventurous
Encourage the reader to get out in the world and live life to its fullest
Prove how easy and cheap it is to be a nomad
Offer a peek into the "life behind the scenes" of a cruising couple
Share emotional moments, the good and the bad, the exciting and the heartbreak
Take the reader with me as our life unfolds day by day, and therefore create a sensation of curiosity as to what is next – much the way we experienced it
I love brainstorming, coming up with an outline, describing what I want to do and getting excited about the whole concept of my book. This is the fun part.
The Problems
Where do I start? 🙂
Problem #1: Thinking (and explaining) about your book is much easier than actually writing it. While I know what I want, I do not succeed in actually producing this result.
Problem #2: Because of #1, I lose focus, interest and determination.
Problem #3: I have so much to write about that it is very difficult to find a theme to work and build around. Something I still am not successful at. What will that theme be??? I know I cannot write about it all, and maybe writing several books is an option, but that does not help me now.
Problem #4: Because of #3, I have decided to just write, write, write, like many friends and fellow writers have suggested to do. Well, that is whenever I actually sit down behind my screen and work on my book. Why is this a problem? Because now I am doing exactly what I didn't want to do: write chronologically, write too much, forget about dialogues, and – when doing effort to keep the word count under control – produce summaries without a soul.
Problem #5: Distractions, also called excuses… There are so many other things to do that are more important – and accomplishing – than writing a book. And, I am not even talking about traveling, exploring, household chores, exercising or reading a book. I feel overwhelmed these days with applying for "real" jobs, submitting articles and following up on them, answering emails from friends and family, thinking about and writing three blogs a week, reading other blogs and commenting, dealing with my photos (recent and older), and producing time-consuming applications for house sits, a post master job in Antarctica and a travel writing scholarship in Australia. That all sounds much more interesting and exciting than writing a book, right?
What's Next?
Even though I am not a fan of how my book is developing right now, sticking with it, following my original outline and just writing experiences and memories down, seems the easiest plan of action. When I do allocate time for this, I am actually enjoying the process and making some progress. I have a different approach for the story in mind, but I guess I can always cut and switch things around in a second draft. One day, I will be less vague about all these thoughts and concepts.
The Goal
For now, I have to take a step back from all my intentions, expectations, objectives and perfectionism. The main goal I have in mind for my book is procuring that every reader will ultimately agree with the best thing only friends have ever said about my writing: "I felt like I was there."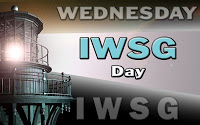 What are elements that create a good (non-fiction) book for you? What are favorite themes you like to read about?