After every house sit Mark and I finish, I write a quick overview for my "Completed House Sits" category. This allows readers to get a feel for our particular assignments and offers potential home owners insights into how we would function in their home, and care for their sweethearts. It also brings conclusion for me, saying goodbye to our temporary pet(s) and the place we called home for a bit.
For this three-month house and pet sit in Rocklin, California, Mark and I drove across the country and left the New England area indefinitely. I recently wrote about a typical day in our lives as house sitters in Rocklin, so I won't repeat myself. We enjoyed our stay in a comfortable house with all the amenities we could wish for and in the company of a great pooch.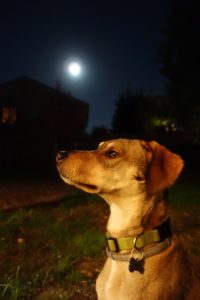 Herk is a very sweet and cute dog to care for. It took him a little while to totally bond with us, but once that happened, our connection was strong. Every time the word "walk" fell, he wanted both of us to join him, which we did.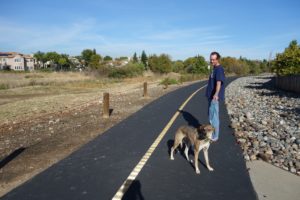 He loved being out to explore and sniff, but we soon discovered that he had issues with certain dogs. Especially in the neighborhood, he seems territorial and needs to show other dogs who is in charge. Or, it might be that he is very nervous at times. He is a rescue dog with a tough past, so we understand his behavior. We used to take him to a dog park a few times a week the first two months we were in Rocklin, but after he showed aggression towards a pack of other dogs, we stopped going there and even reduced our outings to parks and trails where many close encounters could ensue.
Our temporary pet loved to play with his toys and snuggle up next to us on the couch. Other times, he was just happy when he could be in the same room, minding his own business. He expressed his love in short bursts of a wagging tail, by grabbing our leg when we returned home or by "pawing" us, holding onto our arm or leg with his claws. It was adorable.
Kisses from him were a rare and unique treat. We enjoyed each other's presence and all the outings and walks we did together, despite his aversion to riding in the car. On the way to recreation parks, he whined, but on the return trip, happy and tired, he totally relaxed on his bed.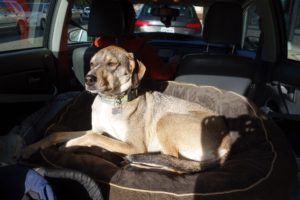 Living in the suburbs for three months was a new experience for us. While we enjoy getting a good feel for different parts of a country and a culture, as was to be expected, suburbia is not really our thing. We were surrounded by lots of houses, cars, traffic, red light after red light, endless shopping malls, consumerism, people going about their lives and not greeting each other… As a frugal, social and relatively adventurous couple, it was not the perfect fit. The good thing about few distractions and cool winter temperatures is that we spent our weekdays behind our computers without any regrets. 🙂
We did our best to sight-see a bit over the weekends and took advantage of being able to walk to the grocery store, bar and yoga studio, where I signed up for a month of unlimited classes.
While I was hoping to create somewhat of a social life while in Rocklin (we never had this many neighbors!), I miserably failed. That being said, we did have fun with Herk and being outdoors when the weather allowed. Our highlight was a weekend at Lake Tahoe when the sun was still providing warmth.
Best feature(s): The fact that we could walk to many places for food, drinks and entertainment. We would have loved to use the pool in the back yard if it wouldn't have been winter.
Best gadget(s): Roomba, the iRobot vacuum cleaner, who would automatically clean the rooms for us on a daily schedule. Unfortunately, he damaged himself after a few weeks and Mark became my Roomba again. The well-equipped kitchen was a joy to cook in!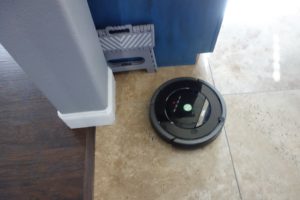 Surprise(s): The home owners left us two bottles of wine and a bar of scrumptious chocolate. They also brought some pure olive oil back from Italy. Nice! The bright and cheerful Christmas decorations and lights in the area. Meeting up with fellow blogger/adventurer Sue and her husband in Roseville for the evening.
Downside(s): Herk's behavior towards other dogs. It did put a damper on all the excursions and hikes we had planned to do with him, but we easily adjusted and still had a great time together. Winter in Northern California is nothing like Southern California or Florida. We are cold here as well and hope to be back in the tropics somehow next winter. 🙂