While this past weekend the weather was not as enjoyable as the previous one, Mark, Lola and I still had a nice time together. At least that's what she told her loved ones in Mexico with the following letter. I couldn't have phrased it better myself! 🙂
"Hi mom and dad,
I hope you are having a good time in Mexico. While I miss you a lot, I am happy to have remained in my own comfy house. I can lay in my favorite spots, play with my favorite toys, stroll in my favorite yard, bark at my favorite deer, and each time we come back from a car ride or a walk, I am so happy to be home. Sometimes, I don't even want to leave, because I like it here so much. Last week, when it was so warm, I lagged behind on walks and panted a lot. I can't believe that these two drag me out into the hills every day! Well, it is kind of nice, but sometimes, I just want to nap.
The weekend was not going to be nice, weather-wise, so I planned on a lot of time inside and catch up on sleep. No way, José! Since Friday was going to be the nicest day, they quit work around 3pm and off we went, to Ragle Ranch Regional Park. I could smell it from miles away and asked from the moment we approached, whether we could just go to the dog park. Of course, they wanted to go for a walk first, like always. I told them it was not worth it and that chasing balls would be more fun, but they needed some exercise, they said. Of course, the trails were still wet and muddy – I could have predicted that – and their flipflopped feet turned from pink to black. They were not too happy. I heard them mutter something like "Why would they create trails in the lowest parts of the park?", "They could put some boards over the wettest spots," and "Good we have a free pass for this park! I wouldn't want to pay $7 to trot in the muck." Then, we walked the usual loop with dry footing, on all the upper paths and sidewalks, the longest route possible, to get to the off-leash dog area. I eagerly showed them the way, but they did not want to take any short cuts! Once we got to ball heaven, my ears perked up and I chased balls until I was out of breath. I so love it there! But, you know that.
Afterwards, they took me to The Barlow again, just like last Friday. Those guys rarely go out, but in nice weather and in this unique town, they want to take advantage of what is on offer. This time, we didn't sit outside on a bar/restaurant patio, but we went inside a funky building called "The Crooked Goat". It is a brewery and I was not too happy to be sitting under a table. They don't serve food there, so, despite my biggest efforts, I did not find any crumbs or snacks anywhere on the floor. Then, my luck changed…
One of the servers brought me a massive doggy biscuit. I gladly sat and laid down for that! It was 20 times the size of my own little treats. Not too much later, a customer took a liking to me and suggested he'd get a biscuit from the crew behind the bar for me. I did not mention I already had eaten one of those giants, but just looked at him pleadingly. That was all it took. He managed to secure anther one of those treats for me, and despite some faint objections from my care takers, I gobbled it up. A bit later on, they were caught up in conversation, so they didn't hear my new best friend, the server, say "I think it is time for another treat." Little did he know this was going to be my third one. This place is like hitting the jackpot! I couldn't believe my ears, when the humans said: "We might have to give her a smaller dinner tonight." But those were worries for later. I happily indulged in my most recent biscuit. This place rocks. I hope we come back every week!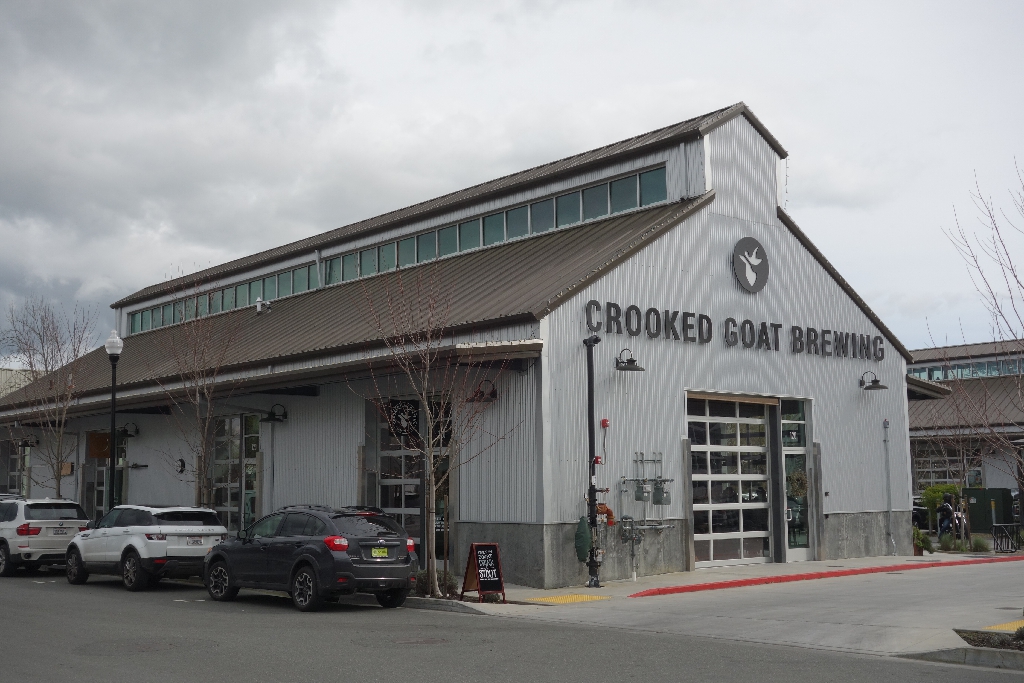 The humans were in a splurging mood, but I was still hungry when we left my favorite brewery, so they picked up some Thai food and ate at home, after feeding me. I lucked out as they did not go through with their threats of a smaller dinner portion. I think I am pretty spoiled, especially, since after dinner, we played with my toys for ages. All of them. They were trying to figure out which one I liked best, full-well knowing I always dig in for my ball if I have a choice. Unless they hide it! I still hadn't had an afternoon nap! So, we went to bed early.
I love the weekends! I don't get many naps in, but the humans spend all of their time with me. In return, I don't stop wagging and any chance I get, I lick them in the face. Especially at 7am in the mornings! I love those early snuggles, until it is time to eat, of course. It was grey and rainy, but they did not want to be cooped up all day. So, they asked me what I wanted to do. "If you want to go to the forest, grab your ball, Lola! And, if you want to go to the beach, grab your bottle toy!" I had a sneaking suspicion they wanted to go to the forest, because they know I ALWAYS pick my ball. Sneaky, those two. I didn't want to disappoint them, so I grabbed my ball. More playtime. Except that I don't like to let go of my favorite toy. They are trying to teach me how to fetch and release, but only when I really feel bad for them, I do this. To the forest we went. We drove to Armstrong Redwoods State Natural Reserve. Did you know that dogs are allowed on the paved roads there? It must be one of the only big trees parks where we can visit. I enjoyed the new smells and those big giants towering above. We also managed to get on a fire road away from the crowds, where I could fetch sticks to my heart's content!
In the evening, I could finally take a nap on my rocking chair. I know it rocks now, since one of the humans showed me how to do that. I prefer to remain stationary, though. Anyway, something about "a celebration of her grandma's life" and going out to a nice restaurant for that. This wonderful lady passed away two weeks ago, and made my female caretaker very sad. She even booked a flight to go to the funeral in Belgium and packed her bags, but then looked at me and canceled it. I'm sure she stayed home for me. Or, it might have had to do with the fact that her oma would have rather she'd spend the money on something fun or nice than on a funeral trip. I think that's why they went out to The Fork Roadhouse that night. I was so incredibly happy when they returned home. I almost lost my tail from wagging so hard, moaned a bit and licked their faces until they dripped, even though, I barely noticed that they had been gone, since I slept and dreamt of the redwoods. It was good to have them back, so we could play with my ball some more.
On Sunday morning, my two friends felt bad for me. See, each time they crack eggs, I expect my part, the yolk, since I am used to that from you, mommy. I rush over to the kitchen when I hear the familiar sound. These guys, though, eat all the parts of all the eggs, so except for the rare yolk, they are just selfish and eat everything themselves. This morning they decided to make up. The male cooked poached eggs, even for me!!! Man, oh man… Once my portion was cooled off in my bowl, I gobbled it up like nothing else. I licked my bowl for minutes afterwards. They had to tell me three times it was all gone. I didn't believe them. I drank some water and then returned to my food bowl for good measure. Much better than raw yolk!
I did not get to pick where we would go on Sunday afternoon. The beach was on the agenda! But first, the male discovered a tiny tick on my cheek. That had to go. "Flea and tick medicine is not foolproof," they said, when I raised my invisible eyebrows. They also praised me with a treat after the creature had been removed. Because I had been so patient, they said. We had discovered a really cool trail called "Pinnacle Gulch" last week, leading to a remote and pretty beach. I loved it there so much, that we decided to go back this weekend. Fog or no fog, cloudy skies or not. A beach is a beach if you ask me. There are always waves, sticks and even a coconut this time, to play with.
We ran and jumped and chased nature's toys and waves. We clambered over rocks and returned via a different trail. I was pretty spent after that and sent the humans to the cinema, so I could finally catch up on some rest. That doesn't mean I wasn't ecstatic when they returned home, of course. By then, it was time for a late dinner, belly rubs and playtime.  I rummaged through my toy basket, until I found… my ball. The humans think I am funny. But, I know they love me to bits. I see it in their eyes and feel it when they pet, kiss and hug me.
Today, it is dark and raining. I don't think they will pull me outside the house for a walk, but you never know. I am resting on the bed. It is the comfiest spot, despite the warm fire downstairs. The male pulled another tick off me. It came out of the yard this time. Another 11 days until I get my next portion of the medicine. I hope the little bastards will leave me alone after that! But, some extra attention from the humans is never a bad thing, and there is a treat involved at the end of the removal procedure! I can't complain, really.
Enjoy your time in the tropics. I have to say, while the humans don't appreciate it too much, I am happy with the cooler climate after those few hot days last week. My fur protects me and I feel friskier than ever!
With love,
Lola xxx
PS: The female thinks this letter might make a nice blog post. I think she is just being lazy to come up with her own story!"
What did you do this weekend?