Throughout our one-month house sit in Santa Fe, New Mexico, Mark and I were extremely busy. During the week with work and over the weekends with excursions. There is so much to do and see in the Santa Fe area (we barely even set foot in the town itself), that four weekends do not suffice. That being said, we did our best, and hope to return. While our previous weekends of explorations are doable as day trips, our last weekend required a longer drive. Still, people do visit Taos on a day excursion from Santa Fe. We decided to take the long way there and not rush. The focus was more on driving than on hiking this time.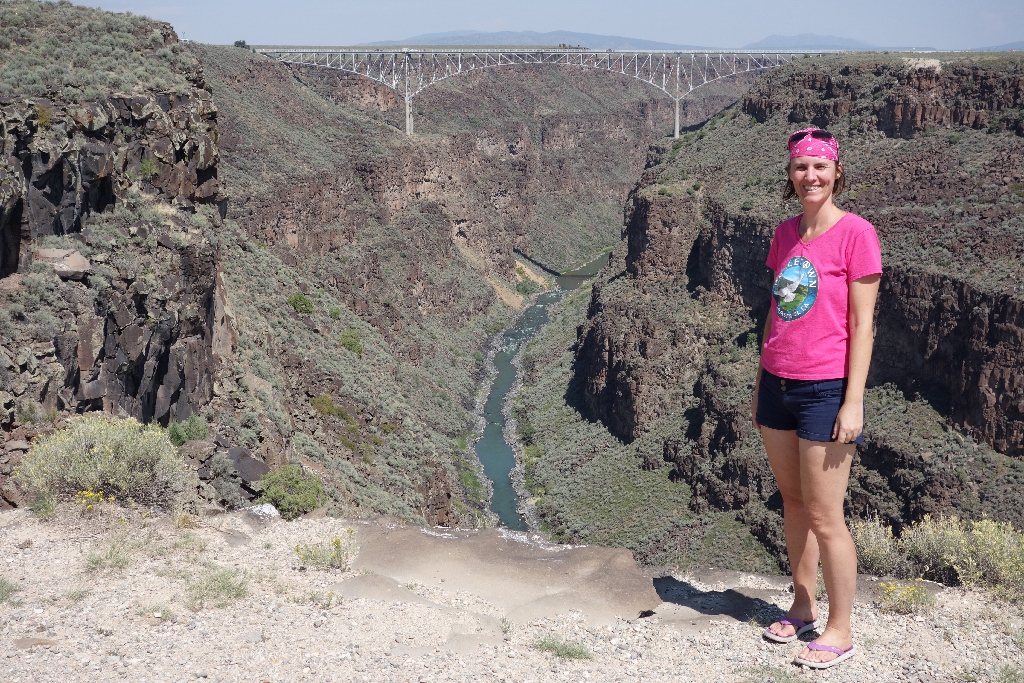 We planned to take the "high road" to Taos. This is a scenic drive of about 2.5 hours, without stopping. It brought us through some amazing New Mexico scenery and a few spiritual places.
Our first stop was El Santuario de Chimayo. This National Historic Landmark is a Roman Catholic adobe church, visited by 30,000 pilgrims a year, mostly during Holy Week.
The shrine is famous for its "holy dirt", of which there seems to be an unending supply. The "dirt" found at the room known as the "pocito" (well) is considered holy, because in this spot the crucifix of Our Lord of Esquipulas was found by Bernardo Abeyta in 1810. Many visitors to the church take a small amount of it home, often in hopes of a miraculous cure for themselves or someone who could not make the trip. Upon entering these secret chambers, people are warned not to eat or drink the dirt. In order for a cure or a miracle to happen, there is a certain procedure required, involving rubbing the "holy dirt", but also communicating with God. No photography was allowed inside the church.
Unlike the tour groups present, we mostly enjoyed the beauty and serenity of the grounds and buildings and happily strolled around, taking in the atmosphere.
In Las Trampas, established in 1751, we parked at the Church of San José de la Gracia. Also a National Historic Landmark, with adobe walls up to six feet thick, it is considered one of the best preserved examples of Spanish Colonial Architecture in New Mexico. Unfortunately, the door was locked, so we could not glimpse inside.
Before we made the right turn towards the cute and artsy town of Taos, we went left and stopped at another adobe building, the Church of San Francisco de Asis. The walls must have been re-mudded recently, since its particles were visible everywhere. The interior was colorful (no photography allowed) , yet modest and peaceful, just like at the sanctuary. I have to admit I like the style of these churches.
Taos is a small town that reminded us a bit of Santa Fe, especially the historic town square. The plaza and surrounding blocks are quieter, but also offer art galleries, shops and restaurants. Since we are on a tight budget these days and nothing struck our fancy, we just walked around for a bit, before hopping back into our camper and reaching an attractive, quiet and free camping spot in the mountains, half an hour away.
The temperature dropped a lot at night, but we still slept comfortably, before setting out again on Sunday. After a wonderful egg breakfast, of course.
We did not have a lot of plans this day, unlike the week prior. We wanted to drive by Taos Pueblo, a town made entirely of adobe (earth mixed with water and straw), and continuously inhabited for over 1000 years by indigenous people. The pueblo is the only living Native American community designated both a World Heritage Site by UNESCO and a National Historic Landmark.
We did not get very far, as, upon approaching the village, we were stopped and asked whether we wanted to visit the pueblo. We knew the cost would be a steep $16 a person and simultaneously answered: "No." "This is the only entrance into Taos Pueblo (a lie), so you have to turn around and head back the way you came," the boy told us. We obliged and headed to the Rio Grande gorge instead.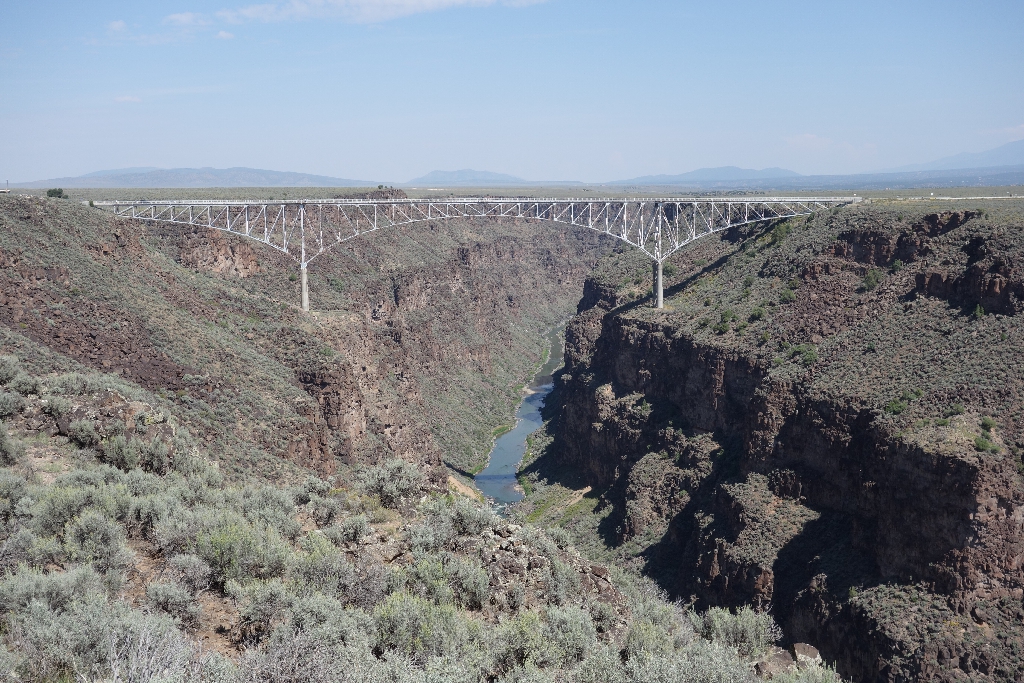 Talk about a deep canyon! We had to cross it, before being able to park and look around in amazement. Walking over the bridge, Mark only ventured a few glimpses. I hung over the edge to stare down. The gap was impressive; the sliver of river narrow. Usually not one to swallow when looking down into the abyss from high up, I did get a tiny bit queasy here. And, apparently, my brains were not working either. "Why would they put a call box up here?" I wondered out loud. Mark had to enlighten me with the answer. I'd never think about jumping down from this height, except with a bungee cord. Hum… I guess these phones are strategically placed.
Mark and I finished our excursion with a walk in the desert and along the canyon, part of the Río Grande del Norte National Monument. It was the heat of the day, so we did not venture far, but it was about time we had some exercise this weekend.
On the way back to Santa Fe, we took the "low road", which mainly followed the Rio Grande and offered nice places to rest and have a late lunch. Finishing our Santa Fe time off with a somewhat relaxing weekend was exactly what we needed, to start another stressful work week and wrap up this sit in order to move onto the next house (and dog), in Colorado.
Do you have a fear of heights? Have you ever bungee jumped?