It was a cold Saturday in March. Since it was the weekend, Mark and I wanted to take the dogs we are pet sitting for a decent walk in nature, as usual. An area we had not checked out yet since being here for almost three months, was Lake Waramaug.

Only a 15 minute drive away, we found what some call the prettiest lake in Connecticut. It is possible to drive all the way around Lake Waramaug, some of which is a tiny State Park, consisting of a small beach, picnic area and campground. Other parts of the lake shore are a bit more built-up.
We decided to walk Henry and Mickey on the grassy grounds near the water. After ten minutes of being exposed to 35°F (1.5°C) weather, Mark had had enough of the cold. The mild winter had spoiled him! How was I going to convince him to go on a walk elsewhere?
While researching the web for parks near Lake Waramaug, I had stumbled across a link to Housatonic Meadows State Park, another 15 minutes away from there, making a nice triangle back to our place in South Kent. Driving around the lake did not take too much time, so it was still early afternoon when we arrived in our newest found park. The parking area was right off Route 7 and only a small plaque with the name of the trail gave it away. Thanks to a handful of parked cars, we found it.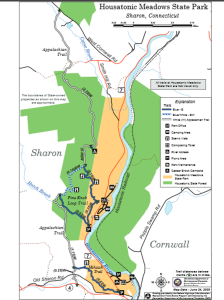 The car thermometer read 39°F (4°C) now, and by the looks of it, other hikers had not been put off by this. "Do you want to join me and the dogs for a walk then?" I asked my husband. A tempting forest and cascading stream lay in front of us. The trail appeared marked and straightforward. "We can turn back whenever you want," I added. I desperately needed some exercise after a week behind the computer. He agreed and the four of us set out on the Pine Knob Loop Trail.
We followed the picturesque stream and the trail became steeper. Soon, we were sweating and there was no complaint about the cool air anymore. It was a very pleasant walk, not too long and not too strenuous, that brought us by two pretty viewpoints over the Berkshire Mountains.
At the first one, we took a breather and had a snack. The dogs scouted a group of rocks for morsels left by previous hikers having lunch. The second view, we took in while walking a flat rocky expansion, continuing our loop walk. Mark and I ended up doing the whole trail, which is about 2.5 miles up and down hilly terrain, and enjoyed every minute of it. Part of the route joined the Appalachian Trail (white markings), which always makes hikes around here a bit more rewarding.
Housatonic Meadows State Park is wrapped around the Housatonic River in Sharon, CT with a campground and picnic area near the water and a couple of more hikes in the hills. The Appalachian Trail cuts straight through it. That being said, I think the Pine Knob Loop Trail offers the best experience of the park, especially when the brown landscape will have turned green and the long clothes will be replaced by shorts and T-shirts!
For more hiking stories, check out Jo's Monday Walk for her latest nature adventure and many others!