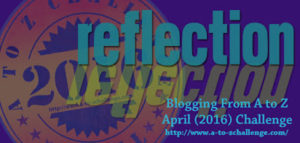 Yes, I know, you probably have had enough of the whole A-Z thing after being exposed to it almost every day of April. Yet, a conclusion is a good way to find closure, even when blogging daily and following a theme.
Why did I participate?
Honestly, I had never heard of the A-Z Blogging Challenge, until my good cruising friend Rosie mentioned it on the phone. Since I work from home and thought it would be a good way to expose my new blog, and create an audience on top of a healthy writing habit, I joined. I also like a good challenge and enjoy writing about a theme. I decided to write 26 posts – one every day in April except on Sundays – on "Thoughts about being a nomad".
How did I approach the challenge?
I had learned from the A-Z website and from repeat participants that it would be wise to write some or all the blog posts ahead of time. I did not do that, for three reasons: 1) I joined way too late to plan ahead 2) I have so much to do every day that I could not fit extensive blog writing in, and 3) How is it a blogging challenge in April, if you write everything ahead of time?
So, I excitingly started the challenge and wrote a blog a day about my topic. The posts turned out much longer than I anticipated. Once I start writing… I should have known by now. Instead of adding one photo to each thought (which was my intention), I got carried away again and added several. The thinking, writing, revising, linking, sourcing photos out of my massive archive, resizing, adding watermarks, writing captions, posting and making sure it all looked good online took two-three hours every day. Then, I wanted to read some other blogs, add comments and reply to the comments on my blog. These fun activities added another 1-2 hours to my day. On Sundays, I took a break, except for catching up with other blogs.
During the second weekend of the challenge, I wizened up. I wrote two blogs that weekend, setting me ahead one blog for the rest of the challenge. A great idea, since I felt less pressure and stress to keep writing and posting every day. I had one in store in case I had to skip a day. I never skipped a day – despite only having one typing hand left towards the end – and I completed the challenge. Yay!
What have I learned?
For sure, writing (and pre-scheduling) blog posts ahead of time will make the whole challenge incredibly easier. But, as I said before, the challenge is gone then, in my eyes. Although, if you work full-time and/or have children at home, it would be the only way to participate, I think. The good thing about pre-writing is the extra time available to get immersed in other blogs. Now, I initially checked out the blogs of people who left comments on Roaming About and kept following the ones I was interested in. This boiled down to about ten blogs I read and commented on every day. Usually the same ones. Most of my favorites are mentioned in my blog post S is for Sailing. Other blogs I particularly enjoyed and discovered through the challenge are: Residuals, 'Till the butter Melts, Ramblings of K, Beth Camp, Black Boots Long Legs, Empty Nesters on a Green Global Trek, and I am sure there were a few more.
I have learned that there are a lot of fun, exciting and interesting blogs out there. I would love to explore more of them, but one really needs a lot of time to pursue all the browsing, reading and commenting!
Did I enjoy the challenge?
I find this question hard to answer.  I enjoy writing. But, I write every day as it is. And, I don't really like the pressure of "needing" to do it every day. On the other hand, it is because this pressure that I get things done. So, in general, I liked the challenge, because I like writing about my passion, which is travel, and I like to share my thoughts – and inspire – about this topic. But, I feel I can do that any time with my blog. My biggest problem was the time consumption of writing 26 blog posts. That was a lot of invested time that I could have put into making money writing articles or working on my book. According to not only my husband, a better use of my time.
Conclusion
My mind says the A-Z Blogging Challenge was a waste of time. But, my heart cannot be so crude. I enjoyed the writing process and I enjoyed meeting all my new blogging buddies, something that would not have happened without this challenge. My stats went slightly up, but that might have happened otherwise as well, since the blog is still growing. The biggest difference in regards to the popularity of my blog is the amount of comments. They skyrocketed in comparison to before. The reason is that the new readers of my blog are more active. And, it helps to visit their sites and leave comments as well. All in all, a very nice thing. I also know that a lot of my initial readers don't care about reading a blog a day. For many, this is too much. I hope they will be back now!
Will I participate again next year?
I am not sure. Although I have already given thought to a new topic… The only way I see it happen, is if I make my posts much shorter, about one paragraph ideally, create some of them ahead of time, and find a way to add photos to my posts in a quicker manner. For example, I could write short summaries of amazing places I have visited and add a handful of captivating photos to each post. These photos are much easier to find in my archives, because they are filed under their location. If I could reduce my A-Z blogging time to one hour for the writing and posting and one hour for discovering and following other blogs, I could manage. There are other things in life than sitting behind a computer all day long! Also important to become a participant again for me, is that I will have to be "settled" somewhere with not much else to do. If I am on the road once more, I will be too busy experiencing new adventures to be able to write about them daily! 🙂