During the weekends, Mark and I always face a dilemma: do we take it slow and enjoy our precious time off relaxing, or do we take advantage of being in an incredible area and go sightseeing? Usually, we opt for a combination if the weather cooperates. So, this particular Sunday morning, we took our time getting up, making breakfast, packing lunch and storing the bed and the table in our camper. Then, around 10:30am or so, we backed out of our free campsite in the woods near Albuquerque, New Mexico, and drove the 20 minutes to the base of the Sandia Mountains. We anticipated a big hike and – once the wheels were rolling – were antsy to get started.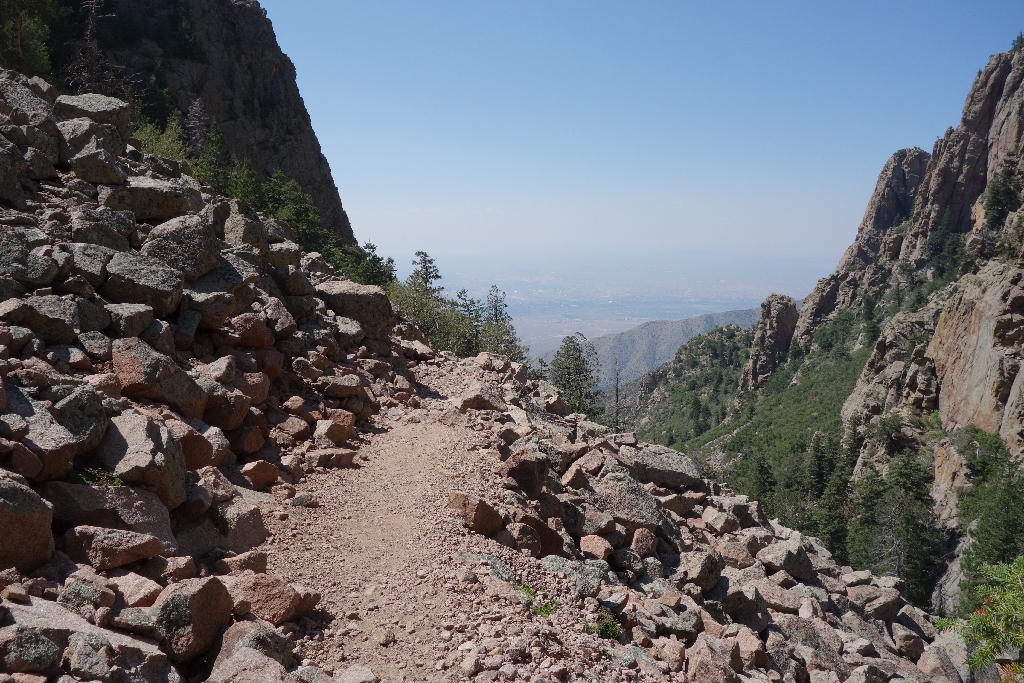 The plan: take the tramway to Sandia Crest and hike down for 10 miles. Usually, we don't like spending money on things like ski lifts or trams when we can get to places on foot, so this proved a special, yet pricey occasion. It was Labor Day weekend, the weather was beautiful, and, apparently, we were not the only ones having a tram ride in mind. Our late start soon bit us in the butt. The line to buy tickets was immense and doubts about our grand plan almost made us abandon it. But, what was the alternative? Strolling around hot and busy Albuquerque? We had both looked forward to this hike in nature, so we hoped for the best. After an hour of waiting (luckily mostly in the shade), it was our turn to join 48 other visitors in the tram car.
The almost vertical ride up took about 15 ear-popping minutes. The view was incredible, especially when we "soared" above the rocky outcrops. At over 10,000ft, Sandia Peak is high – the temperature much cooler, the air thinner and the crowds plentiful. Most of them would ride back down.
After taking some customary photos, Mark and I located the trail head for La Luz Trail. By then, it was 12:30pm; quite late to start a long hike. But, hey, it was all downhill. How hard could it be?
Turns out, plenty hard. The forest trail started by gently sloping down for a mile or so. A deer was watching us from behind the trees. Then, due to a massive rockslide, we scrambled over uneven, tough terrain, multiple times, switch backing down the hill for miles. I regretted wearing my hiking sandals. Shoes would have been more comfortable and sturdy. Mark was the wiser of the two this time. Our surroundings were spectacular and we sat on a shady rock ledge to eat our sandwiches, gulping water to replace the sweat. Minutes earlier, we had given a quart (liter) of our water supply to an older man, who had run out and was suffering on his ascend of the mountain. I wanted to give him more, but Mark said this amount should do. It was the beginning of our hike, the trail was often shady, and my energy level was still honky dory. Mark – being the smarter one, remember – suggested we would need all the remainder of our water. Guess what? He was right again.
After about two hours, the trees disappeared and we were totally exposed to the sun on the west face of the mountain. Because of the rocky terrain, we were not making good progress and realized this 10-mile hike was going to take much longer than expected. There was no time to dilly dally or take breaks. As the hours progressed, my photo taking ceased, my stumbling increased and my energy diminished, together with our drinking water. The scenery remained attractive: cacti, wildflowers, bare cliffs, spires reaching for the sky, and picturesque rocks strewn about by Mother Nature. Lots of rocks, especially underfoot. And, lots of scorching, relentless sun driving me more and more mad.
After eight miles, we left the La Luz Trail to follow the Tramway Trail for two miles back to the parking lot. I took a deep breath and embraced the little bit of shade from the side of the mountain and the trees. I stopped complaining and felt energized. Until we faced … more rocks, pebbles, dirt and sun. I was thoroughly exhausted and my feet hurt. When the trail turned uphill, this close to the finish, I almost lost it! But, we made it. Mark – who refused to drink any of our dwindled water supply the last hour of the walk so I could stay hydrated, preventing a headache – reached the camper first. We had been ascending the mountain for five hours straight. When I finally plunged onto our settee with a soaked bandana, exhausted body, and blistered feet, he handed me an ice-cold glass of orange juice. Nothing has ever tasted better! We happily rested for 10 minutes. Then, we hit the road back to Santa Fe and decided to run all our intended Labor Day errands – Home Depot, Trader Joe's, Albertson's grocery store – right there and then, so we could have a day of rest (and camper projects) the following day. We didn't get back to the house until 9pm, but it sure was nice to stay home on Monday.
Info for hiking to/from Sandia Peak:
Wear hiking shoes or boots – you will need the thicker soles, all-around-protection against pointy rocks and, ideally, ankle support.
Carry plenty of water, especially when ascending this mountain.
Bring lunch and snacks.
Don't forget sun protection.
Start early enough. We read the descend from Sandia Peak would take about three hours, but – for us – it took much longer, including a short lunch break. Also, if you hike in the morning, most of the trail is in the shade.
Taking the tram up, or down (lots of people like the challenge of ascending this mountain and then riding back), costs $15 per person. A return ticket is $25 per person. There are senior discounts.
Parking ("grounds admission") costs $2 per vehicle. There are many (free) hiking trails in the Sandia Mountains.
Would you hike up and take the tram back? Take the tram up and walk down? Or ride the tram up and down? (Or, very unlikely, hike up and down?)