Mark and I drove across the country and temporarily moved to California to enjoy a warmer winter than last year in New England. So far, we cannot complain. It is not as hot here as in Southern California or Florida (or French Polynesia :-)), but the 70 degree daytime temperatures (20s Celsius) have been very pleasant.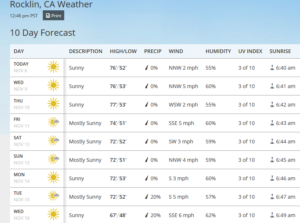 Because it will get colder and rainier soon, we take advantage of the sunny days by going on long walks and hikes with Herk (the cute rescue dog we are currently caring for), even during the week.
Northern California is not new to us – Mark and I met here in November 2004 – but the Sacramento area is. As I have mentioned before, one of the greatest joys of our house and pet sitting lifestyle is the opportunity to explore different areas and fascinating parks. While some places in the US are more spectacular than others (the Rocklin environment is not too special), we always find enough beautiful parks to discover, exciting trails to conquer and interesting cities to visit. California has a lot to offer the outdoor enthusiast and city lover. We are doing our best to experience some of it first-hand!
Downtown Sacramento:
Old Town:
Midtown: