Mark and I have been living in Sebastopol, California for over two months with precious Lola. As we are packing up and ready to leave the area, I figure it is about time to write a blog about a random day in our lives here as house sitters. I post this feature every time we do a long-term sit, like at the artist-inspired home with parrots and dogs in Kent, CT, the maple farm with Jenny in Heath, MA and our first stay in Northern California, with Herk in the suburbs of Rocklin, CA. And, just for fun, I also wrote about it during our short time in the biggest retirement community of the world, called The Villages, in Florida.
Our days probably look pretty much the same as other forty-somethings with full-time jobs and no children, except for the fact that we don't have to commute and we fill gaps, late afternoons, evenings and weekends with doggy love and devotion. 🙂 By now, once we are settled in a new place, our routine is pretty straightforward.
6:30am: The alarm goes off. Mark opens Lola's crate and jumps in the shower. I get my own shower created by her licks, accompanied by soft moans and snuggles. It is a nice way to wake up. During the weekends, we leave the door to her crate open and she joins us in bed around the same time. Then, she has two faces to lick.
7:00am: Mark goes to work in the office and focuses on our business, The Wirie. I catch up on emails, house sit listings, blogs, comments and Facebook on my iPad, still in bed. Lola is fed downstairs and let outside by Mark. During the weekend, I get up for this part. She joins me again after her potty break.
8:00am: I get ready for the day, do some exercises and make breakfast for myself. Mark usually eats earlier or later, after starting a wood fire.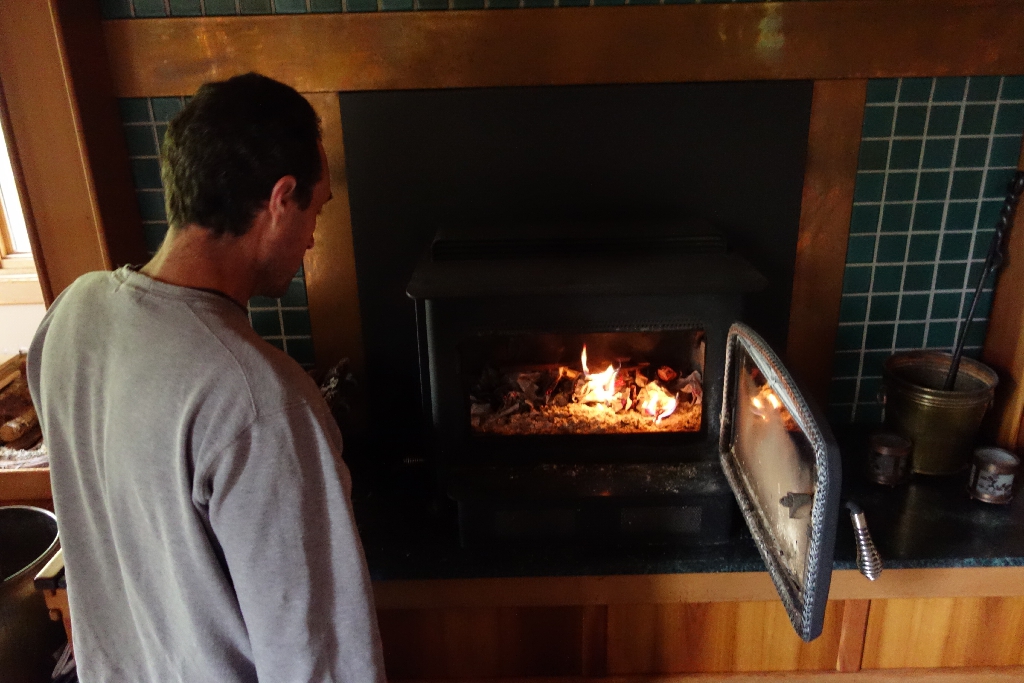 8:30am – 12:30pm: We sit behind our computers in our own office; Mark downstairs, I upstairs. Mark calls customers and takes care of random business chores, I write in my memoir or focus on other writing projects or translation jobs. Each time I leave my desk, I have to pet and hug Lola. I have a sneaking suspicion Mark does the same. She is such a sweet, cute dog!
12:30pm – 1:30pm: Lunch time. We were hoping to sit in the spring sun on the deck for this often, but the excessive rain and cold temperatures did not agree, unfortunately. We eat, drink our tea and play with Lola indoors instead.
1:30pm – 3:30pm: Wirie work for Mark and social emails, reading, researching and other projects for me. Recently: studying for my Massachusetts driver's exam.
3:30pm – 4:30pm: Loop walk with Lola in the area.
4:30pm – 5:30pm: Winding down and finishing up the work day. Lola has her dinner at 5pm and likes to play with her plethora of toys after it is all digested. More often than not, she chooses the tennis ball.
5:30pm – 6:30pm: We cook a healthy meal and hang out together at dinner. Lola is settled on her couch.
6:30pm – 9:30pm: Dishes, clean-up, picking up the mail if that hasn't happened yet, maybe a soak in the hot tub, sometimes TV in the form of Netflix or a movie, sometimes reading blogs or magazines, sometimes, just hanging out on the couch, talking about the future. Lola keeps us company close by. When she gets sick of all the cuddles, she retreats to one of her favorite spots in the house: her leather seat in front of the fire, the bed, or the shelf in front of the big office window – perfect for spotting deer.
9:30pm: Bed time.
Rereading this, it looks like we lead a pretty boring life! But, we are enjoying the conveniences and the luxury of a homey lifestyle, still. The highlights are the weekends, when we explore what the area has to offer.
On Fridays, we usually take Lola for a walk at Ragle Ranch Regional Park and let her play with the hundreds of tennis balls at the dog park there.
Once in a while, we walk to our favorite beach at Pinnacle Gulch and when the weather is bad – it has been rainy and chilly often – we go to the movie theater or catch up on chores inside the house.
Every few days, we carry two wheelbarrow loads of chopped wood inside, fill the bird feeders and check the hot tub for maintenance.
Occasionally, we water the plants inside (so much rain has fallen that watering outside is not needed) and start the owners' cars. And, that's about it. Mark and I have been pretty happy here, but now it is onward to the East Coast for a few weeks to see friends, family and doctors. We will miss Lola heaps!