A little while ago, last year's sitters of our current house and pet sitting assignment in Kent sent me a list of their favorite parks and hikes in the area. One destination Mark and I had not checked out yet was Lover's Leap State Park.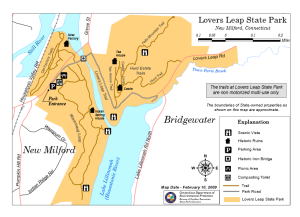 On Saturday, the weather was right (a sunny 50°F) and Henry and Mickey were in the mood to join us (when are they not?) for another walk. We followed the GPS directions to Lover's Leap in New Milford. Of course, I had forgotten to write the address down from my research on the computer, so we blindly trusted the computer voice in our car. My laid-back mentality about things like this will get me in trouble one day, but not yet. All that happened Saturday was that we arrived at an unofficial entrance to what we assumed was the park, without any signs. We parked off Lover's Leap Road at the NE edge of the park and set out exploring inside the gate. The gorgeous weekend sunshine drew a crowd of walkers and dogs, so all we had to do was follow the well-trodden path.
After ten minutes on Lovers Leap Trail, we reached the rock formation that gives the park its name. According to tradition, the Pootatuck Indian Chief Waramaug's daughter, Princess Lillinonah, and her lover plunged to their deaths at this viewpoint. The Chief himself died in 1735.
1200 feet further along, we approached "Fall Bridge", an 1895 Berlin Iron Bridge, and one of a few remaining in Connecticut. Via this now pedestrian only structure, we crossed the Housatonic River, which also runs through Kent.
A few signs talk about the history of this bridge and state park and a map shows all the possible trails open for exploration.
Mark, the dogs and I followed the soft leaf-padded forest trail along the picturesque river. We passed a few ruined buildings, before we looped around, back to our car. While the scenery was quite pretty, this park is by far the busiest and loudest we have visited during our three-month stay in Kent. The whole time, we could hear the noise of cars, motorcycles and gun shots from a shooting range. Next weekend, we'll head back to Macedonia State Park!
Shared with Jo's Monday Walk.