So little time and so many excursions to blog about! Since Mark and I were only in Santa Fe, New Mexico for one month, we had to fully utilize our weekends to explore the area. We did this by leaving the house mid-morning on Saturday and returning late afternoon on Sunday. All the sites we visited can be done as day trips from Santa Fe, since our driving time was usually between one and one and a half hours each way. Going for the whole weekend allowed us to relax some, do less driving and spend the nights in nature – quiet and peaceful. We always find free camping spots to sleep in Zesty, our Westfalia (Westy) camper van.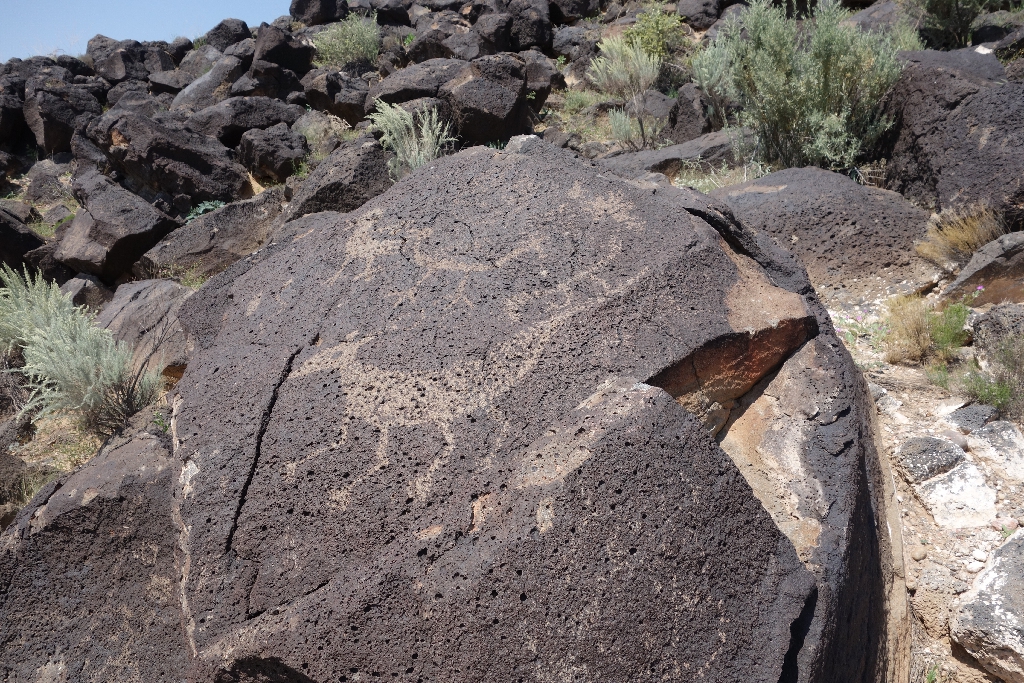 Albuquerque is located at a lower elevation than Santa Fe. This means that it is usually quite a bit warmer, something we did not account for. My plan, before setting out, was to visit all four areas of Petroglyph National Monument and do most of the hikes, about 7 miles in total. It seemed feasible. We had all day. There are over 24,000 images pecked in stone. We would not have to search hard to see some.
American Indians believe that these images are as old as time, but archeologists estimate them to be made 400 to 700 years ago by the ancestors of today's native people. Some images may be 2000 – 3000 years old even. Why they were created or what their meaning is, can be discovered through clues in the subject matter, carving technique, or setting. Other answers are harder to find and might have been taken into the grave with the carvers. Most petroglyphs were created with stone tools.
After a brief stop at the Visitor Center, we decided to start at Piedras Marcadas Canyon for a 1.5 return walk among thousands of petroglyphs. As we strolled past century-old rock carvings of animals, people, crosses, geometrical designs and more mysterious shapes, the sun was beating down on us. There was no shade in the desert and the temperature reached above 100° Fahrenheit (upper 30s Celsius). This time, it was the heat, not the elevation that caused us to breathe heavily. With a potential headache on my mind, and a heightened risk of skin cancer on Mark's mind, we needed to find cover from the sun's damaging rays after an hour and a half of gazing at the ancient, spiritual rock art. I was starting to realize that we would not be able to visit all four sections of the park.
Boca Negra Canyon is the most popular site in the park, because there are facilities and three short paths leading to tons of rock carvings. It was not busy at all on this Labor Day weekend. Most tourists probably preferred their air-conditioned rooms or a cool restaurant this time of the day. Mark and I grabbed one of the four shaded picnic tables and consumed packed lunches. The hot weather made us tired and lazy and we took our merry time to eat our sandwiches. Mark strongly advised against me climbing the hill to witness that trail's petroglyphs. For once, I agreed, not wanting to repeat my painful, nauseous night of the weekend prior. Instead, we scrambled the other two short paths to see a few more images on the rocks.
Being satisfied with the amount and variety of petroglyphs at our first stop, Piedras Marcadas, we decided to leave the park and head to the higher elevations of Cibola National Forest in search for a quiet and attractive spot to spend the night. We found it off forest road 252 near Cedro Peak. It was cooler here, we still had time and we lacked exercise, so we decided to climb the dirt road to the top of the mountain, before enjoying sundowners and organic popcorn at our new, private spot in the woods.
Extra info for Petroglyphs National Monument:
There are four park sections within short driving distance of the Visitor Center (no petroglyphs here): Piedras Marcadas Canyon (thousands of petroglyphs), Boca Negra Canyon (hundreds of petroglyphs), Rinconada Canyon (hundreds of petroglyphs), and Volcanoes (no petroglyphs).
Brochures, information and free (hand-drawn) maps can be picked up at the Visitor Center.
Leashed dogs are allowed on all the trails, except in the Boca Negra section.
Bring water and sun protection, especially in summer.
Water fountains and bathrooms are available at the Visitor Center and Boca Negra Canyon.
Closed sandals work, if you don't mind the dust (and occasional cactus needle).
Frugal tips:
Three of the four sections in the park are free. At Boca Negra Canyon, a nominal $2 parking fee is charged. This amount is waived if you have a National Park Pass, which we possess.
As always, we brought our own lunch. There are no cafeterias in the area. Covered picnic tables are available in Boca Negra Canyon.
Mark and I did not spend any money on this excursion, except for fuel.
Using the free app/website Free Campsites, gives us a good idea of where other campers have spent the night without issues. There are usually short descriptions of those areas as well.
This destination could be combined with a visit to Albuquerque, if you have an earlier start than us. We never made it into this city, but, on Sunday, we went on a fantastic, yet arduous, hike. Stay tuned!
Have you ever seen petroglyphs? Where? After how many were you "petroglyphed out"? 🙂