Every first Wednesday of the month, the IWSG (Insecure Writer's Support Group) encourages writers to share their fears, thoughts, progress, struggles, excitement, encouragement or anything really about their writing. A different question is posed each month, as a writing prompt for IWSG members. Answering it is optional. For August, that question is "What are your pet peeves when reading/writing/editing?"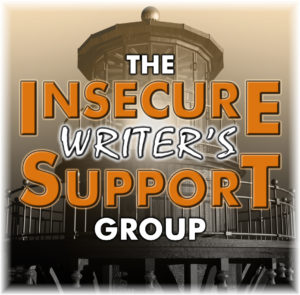 This amazing, supportive group of writers was founded by Alex J. Cavanaugh. Today, the inspiring and accomplished co-hosts are Christine Rains, Dolarah @ Book Lover, Ellen @ The Cynical Sailor, Yvonne Ventresca, and LG Keltner. Feel free to swing by their sites and see what they are up to. Don't be shy.
Scheduled posts or repeat events/meetings/projects, whether they are weekly or monthly, are a sure way to be reminded about how fast time flies. That always happens to me when the first Wednesday of the month rolls around. Again! I am happy to reflect on my (non-)writing in July, but I am sad to see another month disappear.
My pet peeve when writing/editing is using the same words too often. Whenever possible, I find synonyms for verbs and nouns already utilized. Not sure what to do about "I", "and", and "to". 😊 When it comes to reading, I have a big pet peeve called typos or spelling mistakes. Especially in best sellers. I seem to notice them without effort. They might as well be printed in red. They stand out, I think, because, as a non-native English speaker, I read quite literally, instead of diagonally, making sure I don't miss a beat. A result from our English classes in high school, where we needed to discuss articles and books in-depth, maybe? The irony of this is that I do not write without (spelling) flaws either, but can't detect them all myself, in turn annoying others.
Every first Wednesday of the month, I am a bit apprehensive about my IWSG post. While I am a member of the IWSG, which is one of the most helpful, genuine and caring Facebook groups I have joined, I do feel a bit out of place. Most other members are of the "real writer" type. They are published authors, practice their craft every day, have lots of experience and know what they are doing. Some make a full-time living of it, most are talented and have a writing background and all of them are very devoted to their projects. They are committed writers. It is what they do and what they want to keep doing. It is their passion.
I have written enjoyably my whole life and, yes, I have a decent portfolio of published articles, but I can't call myself anything but a freelance writer. I am also a perpetual nomad, an ex-sailor, an RVer, a house and pet sitter, a photographer, a blogger, a business partner, wife of a small business owner who also works from home (very intense), an animal lover and an adventure seeker. Because of our lifestyle, desires, travels and commitments, my writing, unfortunately, often has to take a step back. I realize this happens to other writers too – they all have lives, families, emergencies, health issues and other commitments, of course – but, they still manage to make their books a priority, where I can't. Sometimes for weeks at a time. I am still working on a memoir, on my own terms. I never totally abandon the project, but it is put aside more often than I prefer, waiting for a better time and place; always on my mind.
That being said, July started out pretty well, with us settled in a cute, comfortable home in Oakland, California, where we could somewhat stick to a schedule for three weeks. I worked on my memoir every morning. And then, we dealt with the next "disturbance", our new development Zesty the Westy, for ten days. The three-day train ride and the 2000-mile road trip back drained all the time and energy out of me, too tired to write down even one word. But, we are very happy with this new addition to our lives.
As for my dilemma of the last month(s) about how to approach the writing process for my memoir, I have decided (but not implemented yet) to just free write from memory right now. All the material I previously wrote while living aboard our sailboat Irie for eight years appears to be more of a hindrance than a benefit while working on my first draft. The well-crafted stories and chunks of text – memories, thoughts, experiences – would suit better as stand-alone articles, chapters for another book and/or reference material for this one. I need to focus on the book and storyline I have in my head, the one that feels right, and write without interruptions and comparisons. Or, at least, try. Until I change my mind again…
What are your pet peeves as a writer? As a reader?