After our little muddy adventure a few days earlier, Mark and I decided to leave all pets at home for a quick excursion. Henry and Mickey kept the birds – Koo Koo and Tu Tu – company, while we drove off to an attraction barely 15 minutes away: Kent Falls State Park.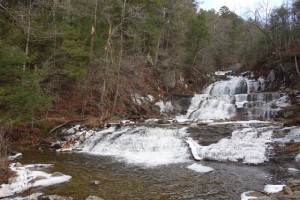 It was the weekend. It was winter in New England. It was grey. It was bleak. But… it wasn't raining, let alone snowing, and it was above freezing: the perfect time to see some waterfalls! From the moment we entered the parking lot (free admission in the winter months), we spotted a cute stream and a nicely replicated covered footbridge. The roar of water welcomed us. The lower falls were clearly visible after just taking a few steps. What an easy site!
Mark was under the impression we had just come to stare at the water and snap a photo, but I was under the impression of the size of the falls – the lower part was just the beginning! – and convinced him to walk the steep trail all the way to the top. Along the path, strategically placed viewpoints offered a different view of the rushing water each time anyone decided to catch a breath. We tried to imagine how busy this place would be in the summer…
The mostly melted snow on the ground did not prevent us from reaching the upper falls. Parts of the river had frozen into picturesque icicles, while some of the old snow added to the beauty of the surroundings. When the only other tourist couple went one way, Mark and I returned another way, via a path through the barren forest. For a site so close to our current home, it was quite an impressive one to behold!