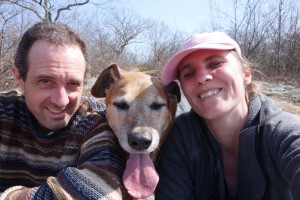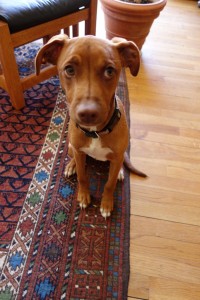 Mark and I can hardly believe it, but our three-month house sit in South Kent has finished. We picked the owners, Steve and Alison, up at the airport of Hartford yesterday and met their newest family member: sweet and precious Paco, a stray puppy from Mexico. It was quite a shock for him to fly on a plane, meet new people, feel the cooler climate, drive an hour and a half in the car, discover his new home, and get acquainted with his new brothers Mickey and Henry and feathery siblings Koo Koo and Tutu. All in a time span of 12 hours. He is adjusting well and will have a fantastic life in Kent, and so will their pet sitters next year!
"Three months is such a long time to stay in the same place," we thought, when we committed to this house sit many months prior. It was actually the very first one we decided on, when choosing this new lifestyle. But, here we are, the end of March already. Time went fast, as always. We managed to get a lot of work done with The Wirie business and my writing. Still much more to do, of course, but we will get there. We also had a few visitors to not completely lose our social skills.
Although, I have a feeling that we are becoming more and more recluse and weird… We do love peace, nature and doing "our thing". Above all, we truly appreciated living in a comfortable house in the quiet woods and being surrounded by loving dogs and cheeky birds.
We were also very fortunate with the mild winter, our bodies being used to ten years in the tropics. Being warned and prepared for the worst – I have way too many long-sleeved shirts, tights (1 pair I never used) and sweaters now – we were ready for a typical New England winter. I brought games with me for the long, dark evenings and we excitedly discovered the full-blown entertainment system of Alison and Steve, imagining watching movies all weekend long. We had visions of being locked inside for days on end, because of nasty snow storms, and sitting by the wood fire. And, we would use the basement for exercise every day. (You are allowed to snicker at this point!) None of that happened. Instead, we took advantage of the sunny, snowless days to go on beautiful and varied walks with the dogs in the Berkshire Mountains. And my body – as opposed to Mark's – has the right amount of fatty layering to protect me on colder days. I actually got used to winter. Mark, not so much. 🙂
As you can tell, and might have read on our blog the previous months, we had a great time in the Kent area and we will miss Henry and Mickey! Luckily, we have plenty of photos of all the pets and… an invite to come and visit this summer!
Best feature(s): A nice trail and extensive grounds to walk the dogs right outside the door, an artsy atmosphere and cute downtown area
Best gadget(s): All plates and cups are made of beautiful earthenware by Alison, an acoustically-sound entertainment room with an extensive selection of good CDs and movies, a Stairmaster step-machine
Surprise(s): Gifts from Mexico and two hand-made pottery mugs by artist Alison
Downside(s): The birds could be distracting. Dog Mickey missed us and waited at the door for a week after we left. 🙁