In November, I did a case study. Of myself. After months of staring at massive bathroom mirrors and the reflection being exactly the same, I remained disgusted and could not deny the horrible truth anymore: I am (getting) fat. For months, I thought all the scales in the houses we took care of were wrong. Yes, I was that naive. Until recently, when facing – and admitting to – reality. It boils down to this: I am not all-around fat; it just has accumulated in certain spots. My body has been disproportionate for a decade: skinny on top, bulky on the bottom. Recently, the bulkier parts can be labelled fat and some new areas of concern have appeared.
People that have known me for a long time are probably raising their eyebrows reading a post about weight loss… coming from me! Most of those people have probably not seen me in a while either. Yes, I was skinny as a teenager and happy with my weight in my twenties and thirties. Sure, I was still OK wearing bikinis on our boat two years ago, ignoring the emerging belly fat, attempting to sit up straight when in company. And then, I turned 40. I like to blame the unruly weight gain on my age, but it might have to do with Mark and I swapping our challenging boat life for a more sedentary and comfortable house sitting life as well. Food is readily available in a plethora of varieties now. Sitting behind the computer all day and eating more western food probably didn't help. Despite going for a decent walk almost daily, I gained 10 pounds in the last year… How do I get rid of that, at this age, with temptations everywhere?
The Realization:
I'm not someone who often looks in the mirror or scrutinizes herself from top to toe. On our Irie with its small mirror and poorly lit bathroom, I didn't even bother looking up when getting ready in the morning. Imagine my surprise when, all of a sudden, I am forced to do so, say in a fitting room of a clothing store, or the big, wide mirrors of the houses we have been staying at, or… a yoga studio. The shock! After the visual realization came the physical one. My pants were not fitting anymore. The horror! That had never happened in my whole life. They must have shrunk in the dryer, I tried to convince myself. I refused to give in. Whether it was stubbornness or frugality, I kept wearing them with belly cramps as a result. Stupid pants!
The Issue:
Being, or feeling, fat means different things to different people… In this particular case study, we are talking about massive fat rolls in various places of the body: about three layers on the belly (the kinds that bulge over the waistline of your pants), a few protrusions on the outside of the hips and thighs and an unwieldy overhang on each inner thigh. The last ones are those little cushions that rub each other when walking in a skirt (or bikini) in the summer. No wonder I like shorts much better. I won't go as far as to say that's why I like winters better than summers. Not yet anyway!
The Plan:
So, what was I going to do? I am not the dieting kind of person, let alone the trend following kind that reads women's magazines and follows their advice. Actually, I did read one of those recently (it was called Health) and was appalled by its uselessness and commercializing approach. Most of the health "advice" was just common sense, nothing new or mind-opening. I think their market must be a younger female crowd. Ah, there is one advantage of being 40! Of course, the plan I came up with is likely common sense to many was well…
I never realized this before, but trying to lose weight sucks. It requires determination, exercise and discipline. Not really my thing when it comes to eating, but I had to do something. So, these were my humble intentions during the month of November:
belly and upper leg exercises for ten minutes first thing in the morning
not have seconds for any meal
drink at least 2000 ml of water every day
reduce my snack intake and have raw carrots or other healthy alternatives instead
walk at least 8000 steps every day, ideally 10,000
keep eating healthy food
Note: in regards to healthier food consumption, there is not much room for improvement. Since Mark's illness in 2014, we have been eating extremely healthy, removing sugar and red meat from our diet (apart from the rare times we make chocolate chip cookies or are offered a meal containing these items) and cooking plant-based meals. When it comes to meat, I am mostly sticking to chicken (breasts). We only use and consume products with "good" oils (olive, canola and peanut oil – we don't like coconut oil). High fructose corn syrup or partially hydrogenated soybean oil have been big no nos forever.
The Execution:
How did I do in November? Well, Thanksgiving and my birthday made the quest a bit more challenging. I did cheat a bit when buying those almonds covered in dark chocolate. And, how could I resist making this amazing dessert cocktail when having crème de cocoa, amaretto and vanilla ice cream in the house, all at the same time? I am no saint. But, all in all, I stuck to my tight and healthy plan. I did the morning exercises every day but Sunday, I never had a second helping, I usually racked up 8000 steps a day or more (walking the dog and to the mall for grocery shopping and yoga), we stuck to our plant-based diet and I mostly avoided the salty snacks I love. The easiest thing to do was drinking water, especially when hanging around the house all day. Keeping track was the hard part. 🙂
Note: I signed up for yoga classes about halfway through the month. I waited until the weather turned cold before jumping on the introduction offer at a local yoga studio: $30 for 30 days of unlimited access to the ten or so classes every day. The studio is a ten-minute walk from our current home. Great, extra steps! But, being called Body & Heat, it is a "hot" studio. This means that all the practices take place in temperatures of 100°F (38°C) or more and varying humidity levels!!! Yeah… Living in the tropics is one thing, exercising in it quite another, as my frequent excruciating headaches after every hike over there proved. No pain, no gain, right? I had no idea what I was getting into and after trying a few different classes, getting my fat butt kicked, sweating way more liquid than I consumed, being the only one who had no clue about anything and embarrassing myself endlessly (luckily, I don't know anyone here), I discovered that 1) 100°F, while nice on a cold evening, is hot from the moment you enter the room, 2) you sweat, even when meditating or laying in the corpse position (my favorite "pose"), 3) I preferred the classes without cardio, without weights, without flows, without movements really, which was only one: Candlelit Yin, 4) I hated seeing my chubby, uncoordinated, funny angled body in all those mirrors surrounding me.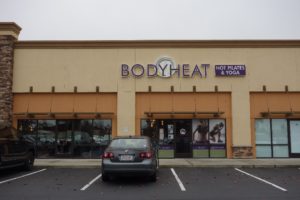 The Result:
I lost all of 2 pounds in November. 🙁 After the month of yoga classes finished in Mid-December (I went 20 times out of 30 days), I am still at only 2 pounds of weight loss since November 1st. All fat rolls and extra cushioning are still present. If I stare long enough at my profile in the mirror, I might be convinced of a 1mm reduction of belly fat. After my stomach was used to the smaller portions of food and I picked exercise classes I could handle, my body did feel better in general. And, my pants fit again.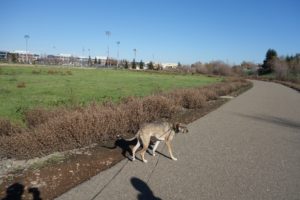 Conclusions:
it was a lot of effort for little gain
to really lose weight, I have to keep up with the plan longer than a month, or get a different plan
to generally feel better and make progress, you need a change in lifestyle: healthy food + small meals + regular exercises (just walking the dog does not seem to do much) – common sense!
to maintain my new weight, I think I have to stick to an hour walk and an hour of yoga or other exercise a day; very time-consuming!
I better learn to live with my chubby parts
the next thing to try is cutting carbohydrates from my diet
there might never be a take 2
Do you have any tips to lose weight?