I have decided to post photos of past travels in general and our eight year sailing adventure on SV Irie in particular for Wordless Wednesdays.  Also, I can't manage "completely wordless", but I'll try my best at "almost wordless". 🙂
I have archived thousands of photos over the years and can't easily pick what to post, so I use the weekly prompt of the Daily Post to inspire my Wordless Wednesdays. This week's Daily Post photography theme is "shine".

This week's theme is a toughie. I didn't immediately recall a photo I could use, other than sunshine images.  And if there is one topic that sailors have heaps of photos of, it is sunsets. Yet, shine conjures up more than just sunshine. When I stumbled upon this photo, I knew it was the right candidate. 🙂
A version of this photo – one of my favorite sunset views – appeared in the December 2014 issue of the Caribbean boating magazine All At Sea: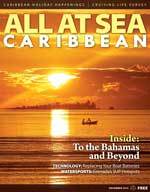 What is shining in your world today?