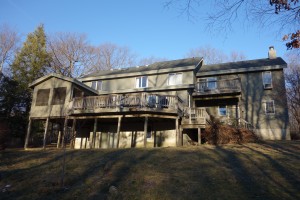 I have always been a frugal person, to be able to travel. As a school teacher my wage was nothing to write home about and after leaving Belgium indefinitely in the summer of 2003, well…let's just say that I would be ecstatic if I could earn minimum wage. But, selling a few articles a year, just doesn't cut it.
During our eight year sailing adventure, we had our own place: a 35' sailing catamaran we named Irie. It was a very sufficient and – compared to my previous living quarters – roomy home that brought us to different places in the world. Irie was purchased in 2007 with my husband's savings and required a decent amount of money to maintain. Every boat owner has a never-ending list of projects and the salty environment is not your friend. Parts and systems wear out much quicker than on land, spares are hard to find in remote areas (and expensive when available) and a once a year haulout in a boat yard to put new bottom paint on and fix imminent issues costs thousands of dollars.
The relatively high cost of boat maintenance meant we had to live as frugal as ever, while exploring the islands of the Caribbean and the South Pacific. Our yearly expenses while sailing those eight years, averaged about US$20,000. The biggest chunk of that ($12,000) went to Irie (boat yards, antifouling paint, mooring fees, parts, fuel, repairs, rigging, sails, harbor fees, cruising permits, Panama Canal transit, insurance,… – we did all the labor ourselves and very rarely stayed in a marina), while the remaining $8,000 was spent on groceries and other necessities to live comfortably, but on a tight budget.
Once we decided to quit the cruising lifestyle and Irie was sold, we were without a home. Some of the boat money went in the bank (for when the next crazy adventure comes along) and some paid for a car, a second-hand 2010 Toyota Prius. Not having any fixed plans about what, where and when, Mark and I needed to find a solution for our non-existing living situation. Barely making any money as freelancers, buying or renting a house and living the "American Dream" like all our land-based friends and family was unthinkable. There is no way we could afford it. But, we didn't want to settle either. Instead we came up with a much better solution… something we have successfully been doing for a few months now.
Mark and I live in different houses, for extended periods of time, all over the United States (and possibly internationally as well in the future)… for FREE*. These houses are convenient, roomy, private, comfortable, cozy, and everything we desire. They have climate control, unlimited internet, running water and "generously flowing" electricity. (Quite the contrast with our boat life.) They are located in interesting and diverse areas. And, so far, they also come with free pets to love and care for, their food and needs being paid for by the owners.
The whole concept of house and pet sitting is perfect for considerate, responsible, flexible and adventurous people on a budget! We are provided with comfortable, unique and ever-changing living conditions, while the house, yard and pets are deliberately and sensibly taken care of. Talk about a perfect exchange! Not only do we live rent-free and have the companionship of lovely pets that aren't forever, we can pick and choose between house sitting opportunities in different and enticing regions of the country. With the cost of accommodation taken out of the yearly equation of expenses, think about how frugal minds would thrive, roaming about the land! 🙂
(*) There is a small fee involved to secure house sitting positions through house sitting sites online. More about that in another post.